White House adviser resigns amid 9/11 controversy
(CNN) — Presidential adviser Van Jones has resigned after coming under fire for signing a controversial petition in 2004. The petition called for an investigation of whether government officials deliberately allowed the September 11, 2001, terrorist attacks to occur.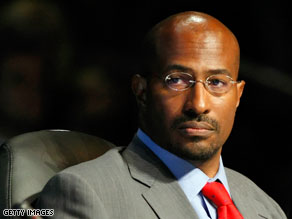 Van Jones speaks during the National Clean Energy Summit in Las Vegas, Nevada, in August.
The White House issued a statement late Saturday saying that Jones was giving up his post at the Council on Environmental Quality, where he helped coordinate government agencies focused on delivering millions of green jobs to the ailing U.S. economy.
Jones, who issued an apology last week in which he denied agreeing with the petition, said he was a victim of opponents of President Obama's push for reform of health care and energy policy.
"On the eve of historic fights for health care and clean energy, opponents of reform have mounted a vicious smear campaign against me," Jones said in the statement. "They are using lies and distortions to distract and divide."
Saying he came to Washington to "fight for others, not for myself," Jones added: "I cannot in good conscience ask my colleagues to expend precious time and energy defending or explaining my past. We need all hands on deck, fighting for the future."
The controversy focused on the petition he signed on a Web site that called for "immediate inquiry into evidence that suggests high-level government officials may have deliberately allowed the September 11 attacks to occur."
An administration source told CNN that Jones did not carefully review the language on the petition.
Jones also was criticized for using a vulgar expression to describe Republicans earlier this year, before he joined the Obama administration.
Asked last week whether Obama still had confidence in Jones, White House spokesman Robert Gibbs would only say that Jones continued to work for the administration. That response was considered a signal that Jones might have to step down.