McChrystal: We've Shot 'An Amazing Number' Of Innocent Afghans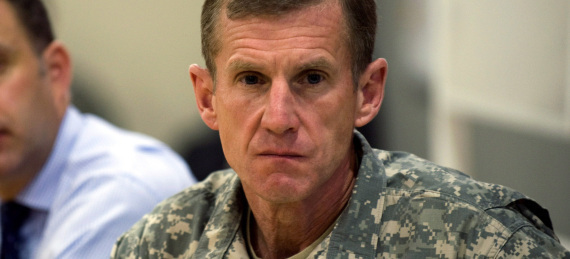 (HUFFINGTON POST)   As reported in the New York Times last week, a significant number of innocent Afghans continue to be killed by US and NATO forces despite new rules issued by Gen. Stanley McChrystal meant to help reduce civilian casualties. Indeed, the number of Afghans who have been killed or hurt by troop shootings at convoys and military checkpoints has basically remained the same since McChrystal announced his directives.
"We have shot an amazing number of people, but to my knowledge, none has ever proven to be a threat," said McChrystal during a recent video-conference with troops, the Times reported.
Talking Points Memo has obtained a longer transcript of McChrystal's statements, which you can read in full here.
McChrystal spokesman Tadd Sholtis tried to place the general's comments in context in an email to TPM: "The general was urging his forces to exercise courageous restraint (by suggesting that it is unlikely that erratic behavior at a checkpoint constitutes a threat) while also expressing sympathy for the confusing and threatening situations in which both soldiers and Afghans find themselves" Sholtis wrote.
From McChrystal's remarks:
We really ask a lot of our young service people out on the checkpoints because there's danger, they're asked to make very rapid decisions in often very unclear situations. However, to my knowledge, in the nine-plus months I've been here, not a single case where we have engaged in an escalation of force incident and hurt someone has it turned out that the vehicle had a suicide bomb or weapons in it and, in many cases, had families in it. That doesn't mean I'm criticizing the people who are executing. I'm just giving you perspective. We've shot an amazing number of people and killed a number and, to my knowledge, none has proven to have been a real threat to the force.
One Response to McChrystal: We've Shot 'An Amazing Number' Of Innocent Afghans