Five U.S. contractors held in slaying of another in Iraq
(CNN) — Five American security contractors have been detained in connection with the killing of another American contractor last month inside Baghdad's Green Zone, the U.S. Embassy in Baghdad confirmed Sunday morning.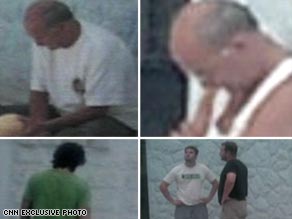 In a CNN exclusive, video shows U.S. contractors held in the death of another U.S. contractor in Iraq.
The five men work for Corporate Training Unlimited, sources with knowledge of the investigation told CNN Saturday.
The company was founded by a former member of the Delta Force elite anti-terrorist unit and has been operating in Iraq since 2003, according to its Web site.
Among those detained are the founder of the company and his son. Iraqi and U.S. personnel took the five into custody in an operation inside the Green Zone before dawn on Friday, according to an Iraqi official involved in the investigation into the killing of James Kitterman.
The five, who have not yet been charged, were being held by Iraqi security forces Sunday at a jail inside the heavily protected zone, he said.
The troops also confiscated weapons during the raid on the suspects' firm at about 4 a.m. Friday, said the official, who spoke on condition of anonymity.

Watch the men held in connection with their colleague's death »
Four of the detainees were identified by multiple sources as Donald Feeny, the founder and chairman of the company; his son, who shares the same name; Micah Milligan; and Mark Bridges. The name of the fifth detainee was not immediately clear.
The U.S. Embassy would not confirm the names of the detainees, citing privacy laws. But a spokesman said consular officials have visited with them and "they appeared well." Embassy officials have been visiting them frequently, an Iraqi security source said.
The U.S. State Department and the Iraqi government will negotiate to determine what happens next, according to the Iraqi security source close to the investigation, who requested anonymity because of the sensitivity of the case. Iraqi jail workers are treating the five contractors very well and with respect, he said.
Kitterman was found bound, blindfolded and fatally stabbed in a car in Baghdad's Green Zone, formally known as the International Zone, on May 22. The 60-year-old Houston, Texas, resident owned a construction company that operated in Iraq.
The Iraqi security souce said three of the men being held are allegedly involved directly in Kitterman's death.
Both the Iraqi and the Green Zone sources noted that the FBI has been involved in the investigation from the start.
Once the suspects are charged and referred to trial, the case would be sent to Iraq's Central Criminal Court, the Iraqi official said.
If that happens, it would mark the first time U.S. citizens go to trial in Iraq since the United States returned the country's government to the Iraqis.