Fake War on Terror: Underwear Bomber 2.0 was CIA Double Agent
(SOTT)   The would-be suicide bomber dispatched by the Yemen branch of Al Qaeda last month to blow up a United States-bound airliner was actually an intelligence agent for Saudi Arabia who infiltrated the terrorist group and volunteered for the suicide mission, American and foreign officials said Tuesday.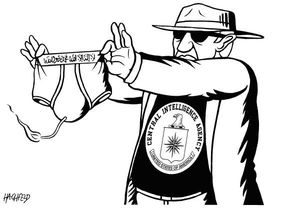 In an extraordinary intelligence coup, the double agent left Yemen, traveling by way of the United Arab Emirates, and delivered both the innovative bomb designed for his air attack and critical information on the group's leaders to the C.I.A., Saudi and other foreign intelligence agencies.
After spending weeks at the center of the terrorist network's most dangerous affiliate, Al Qaeda in the Arabian Peninsula, the agent provided critical information that permitted the C.I.A. to direct the drone strike on Sunday that killed Fahd Mohammed Ahmed al-Quso, the group's external operations director and a suspect in the bombing of the American destroyer Cole in Yemen in 2000.
He also handed over the bomb, designed by the group's top explosives expert to be invisible to airport security, to the F.B.I., which is analyzing its properties.
Officials said the agent, whose identity they would not disclose, works for the Saudi intelligence service, which has cooperated closely with the C.I.A. for several years against the terrorist group in Yemen. He operated in Yemen with the full knowledge of the C.I.A., but not under its direct supervision, the officials said.
The agent is now safe in Saudi Arabia, officials said. The bombing plot was kept secret for weeks by the C.I.A. and other agencies because they feared retaliation against the agent and his family.
Officials said Tuesday night that risk has now been "mitigated," evidently by moving both the agent and his relatives to safe locations.
A senior American official said the device was sewn into "custom fit" underwear that would have been very difficult to detect even in a careful pat-down. Unlike the device used in the unsuccessful December 2009 plot to blow up an airliner over Detroit, this bomb could be detonated in two ways, in case one failed, the official said.
The main charge was high-grade military explosive that "undoubtedly would have brought down an aircraft," the official said.
Over the past eight months, American counter terrorism officials monitored with growing alarm a rising number of electronic intercepts and tips from informants that revealed Al Qaeda's branch in Yemen was ramping up plots to attack the United States, possibly with a bomb-laden commercial airliner.
The ominous chatter followed months of political chaos in Yemen during which the Qaeda branch and its militant allies seized effective control over large swaths of the country, giving the terrorist group a broader base from which to plot attacks both against the Yemeni government and the United States.
http://www.sott.net/articles/show/245210-Fake-War-on-Terror-Underwear-Bomber-2-0-was-CIA-Double-Agent