Bolivian police mutiny over pay, other issues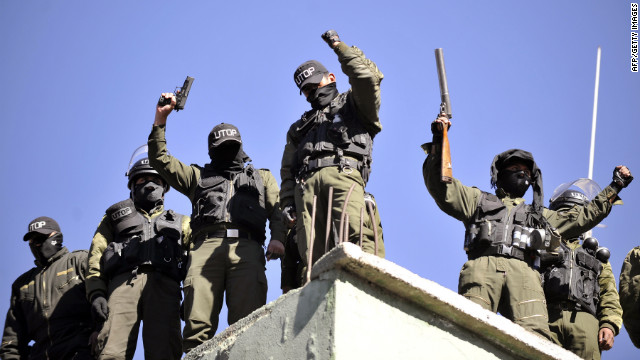 (CNN)    Talks continued Saturday in Bolivia, where a police mutiny over pay has included the storming of buildings and a hunger strike by officers' wives.
Bottom-rank officers across the country are demanding a substantial pay increase and a retirement pension equal to their current salaries.
They have a monthly base salary of $115 and want a jump to $287.
Other demands include the resignation of their commander.
The hunger strike, started by 60 spouses, began this week and was being held in La Paz and other cities.
The tension rose Thursday when mutineers entered a building used by higher-level officers.
Friday, protesters raided police intelligence offices, seizing computers and burning investigation documents. Protesters threw rocks while others burned papers, furniture and other items in the street.
Government officials appealed for peaceful negotiations.
"The best way to continue working on these requirements is not by way of pressure or to seize and occupy public offices," said Carlos Romero, minister of government. "It's not by destroying of public property, by burning documents — it's not the way."
Protesting police are in charge of controlling the massive demonstrations that occur frequently in La Paz.
Members of Bolivia's armed forces have taken over many of the tasks performed by police.
Ombudsman Rolando Villena raised concerns about citizen safety.
"We are concerned about the helplessness in which the population is in," he said. "The absence of protection by the police. We call upon both parties to seek a solution within the framework of dialogue."
http://www.cnn.com/2012/06/23/world/americas/bolivia-police-mutiny/index.html?hpt=hp_t2