Al-Jazeera reporter to sue Bush for maltreatment at Guantanamo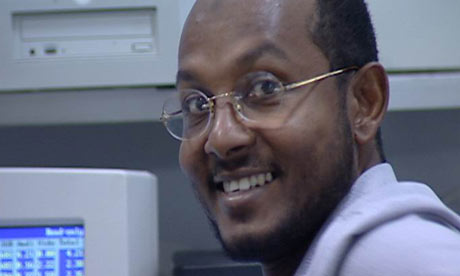 (RAW STORY)   An Al-Jazeera reporter who was held at the US military prison at Guantanamo Bay is preparing to sue former President George W. Bush.
Sami al-Haj, an al-Jazeera reporter from Sudan, was held at the US prison for six years. He's co-founding a new organization to help ex-detainees take legal action against Bush and other US officials for what he says was mistreatment at the hands of US guards. Al-Haj was freed in May 2008.
His lawsuit will be filed by his new organization, Guantánamo Justice Center, which will set up shop in Switzerland later this month, according to the UK Guardian.
"The purpose of our organisation is to open a case against the Bush administration," al-Haj, 40, told the paper. "We need to start our organisation first and then we will prepare a whole case. We don't want to do this case by case."
"We are in the process of collecting information from all the people, such as medical evidence," he added. "It takes time."
"I need them to go to court," he continued; "We don't want [our maltreatment] to be repeated again."
The case will be yet another international thorn in the Bush Administration's side — and doesn't come in isolation. A Spanish judge is investigating a case of torture against former US officials, including Attorney General Alberto Gonzales.
According to the Guardian, al-Haj's legal approach may be constructed in the model of that against Chilean dictator Augusto Pinochet, who was arrested in the UK in 1998 for mass murder of Chileans. Pinochet eventually eluded the legal system after a protracted illness and ultimate death. He died in 1990.
"I spoke to my lawyer, who advises me to do this in Europe," al-Haj said. "The courts do not have the power to bring [US officials] by force, but at least they can't visit European countries. If they do, [the authorities] would catch them and send them to court."
Al-Haj offered an unflattering portrait of the prison in a recent interview, saying coverage has been too favorable. The New York Times, he noted, recently ran the headline: "Out of Guantánamo, Uighurs bask in Bermuda."
"Even if you put someone in hell, they are going to say it's great, because they just left Guantánamo," the Al Jazeera reporter quipped. "The media is not asking the real questions: how are they going to be reunited with their families? What are they going to live from once they are released? How is their security going to be guaranteed? … Many ex-detainees are suffering. Getting back to daily life is so hard that some even say they want to go back to Guantánamo."
Torture continues, he avers.
"The media does not talk as much about Guantánamo as before," he told the reporter. "But there are still many men inside and the torture continues."