(FEDERALJACK)   On This Edition of The Intelhub.com News Brief Popeye covers the facts about the Florida Stand Your Ground Law. He shows examples of how the law has allowed people in Florida to protect themselves, as well as two stories from elsewhere in the country where gun owners were able to defend themselves. And he goes over the story of Marissa Alexander, a legal gun owner who did defend herself under the Stand Your Ground Law and is in jail because of a Judge's misinterpretation of it.
http://www.youtube.com/watch?v=zgfvyBytDA4
Trayvon shooting doesn't justify a return to 'duty to retreat': http://www.federaljack.com/?p=174361
REAL GUN CONTROL: Florida Senior Citizen Shoots, Kills Suspected Burglar: http://www.federaljack.com/?p=170976
Marissa Alexander Stood Her Ground — No One Was Injured or Murdered — She Faces 25 Years In Prison: http://www.federaljack.com/?p=174451
Trayvon Martin's alleged attacker not covered under law I wrote: http://www.federaljack.com/?p=174027
(MIAMI HERALD)   All of South Florida's highways and even some of its major roads may one day offer tolled express lanes if the recommendations of a study released Tuesday are carried out.
The study calls for adding toll lanes over the next 20 years. Offering a faster commute, the lanes would be similar to the current Interstate 95 express lanes in Miami-Dade County. Even some stretches of toll roads, such as Florida's Turnpike, would get higher-priced premium lanes.
Tolled overpasses or underpasses would be built at 79 intersections on 14 major roads in Miami-Dade, Broward and Palm Beach counties, among them Broward Boulevard, Pines Boulevard and Southwest 10th Street in Broward; South Dixie Highway (U.S. 1) in Miami-Dade; and Glades Road and Boynton Beach Boulevard in Palm Beach County.
The study's authors say toll lanes would give drivers a choice as well as boost mass transit by allowing rapid transit-style buses to run faster on major corridors.
"We're reinforcing some of what the state is already doing and saying we can do a lot more," said Robert Poole, lead author of the report and director of transportation at the Reason Foundation, a libertarian public policy think tank.
Poole will present the study at a Miami Chamber of Commerce transportation forum Wednesday that will include Gus Pego, secretary of the Florida Department of Transportation's Miami district office, and Javier Rodriguez, executive director of the Miami-Dade Expressway Authority.
Officials are not bound to carry out anything in the proposal. But Poole, a Plantation resident who advocates road improvements and bus rapid transit over passenger rail, is one of Gov. Rick Scott's transportation advisers and served on his transition team.
Jim Wolfe, secretary of the DOT's district office in Fort Lauderdale, said the department is reviewing how tolls could be applied on roads that are not part of the expressway system.
Over the next 23 years, transportation agencies in South Florida plan to spend $58 billion on road and transit projects. Poole said his analysis shows rush-hour speeds will be 20 percent slower than today, with congestion worse than in today's Los Angeles.
The toll express lanes on I-95 are already being extended from the Golden Glades Interchange north to Broward Boulevard. They will open to traffic in 2014, the same year reversible express lanes will open on Interstate 595. Plans also are in the works over the next 10 years for tolled express lanes on I-75 and the Palmetto and Dolphin expressways in Miami-Dade.
Poole's proposal calls for toll lanes on I-95 as far north as Indiantown Road in Jupiter, and would add "premium" toll lanes on the turnpike and the Sawgrass Expressway.
On Broward Boulevard, drivers could pay a toll to take an underpass at Northwest 31st and 27th avenues. The same would be true on Boynton Beach Boulevard at Jog Road, Military Trail, Lawrence Road and Congress Avenue. Southern Boulevard, upgraded several years ago with overpasses, would get an additional overpass or underpass at Military Trail.
Regular lanes would be maintained for drivers who do not want to pay or who need to turn onto the intersecting street.
"I use [the express lanes] every day, really no matter the cost," said Sheri Abrahams, who commutes weekdays from Plantation to downtown Miami. "On a good day I'll be at work in 45 to 50 minutes. It's worth every penny."
But Boca Raton commuter Mark Burch says the tolls are "crazy." "Once again," he said, "this comes down to Lexus lanes for the rich."
Beyond tolls, the study proposes expansion of ramp signals that control how traffic enters expressways during rush hours. Currently, ramp signals are in place on I-95 between Northwest 62nd Street and Ives Dairy Road in Miami-Dade.
Traffic signals, a major frustration for commuters, would be coordinated. Plans to convert existing lanes to dedicated bus lanes would be dropped in favor of creating overpasses or underpasses that allow buses to travel at higher speeds.
Buses in general get a bad rap from commuters. But Poole said buses that use the I-95 express lanes have drawn even more riders than Tri-Rail.
"The overwhelming success of the new express bus routes using the I-95 express lanes demonstrates that many middle-class people will use bus rapid transit if it provides fast, reliable trips from near their homes to near their workplaces," Poole said.
The plan would cost $20.2 billion over 20 years. But 80 percent of it could be financed by the revenue the toll lanes are expected to generate. The remaining $4.4 billion could come from shifting funds in the lowest-priority road and transit projects in the three counties.
The study says underpasses could be built in some locations because bridges are politically unpopular, especially in Broward. Plans to extend the Sawgrass Expressway from the turnpike to I-95 were shelved in the 1990s largely because of opposition to overpasses at Military Trail and Powerline Road.
In Poole's plan, Southwest 10th Street would get underpasses at Powerline, Military and at two other intersections.
Poole said underpasses are about 10 percent more expensive to build than bridges, but are doable in Florida.
"Many people assume that because of the water table in Southeast Florida, underpasses are not feasible," Poole said. "It is equipped with a pump for use in rain or flooding. The roadway is sealed with an impermeable layer to prevent groundwater penetration into the concrete."
WATCH THE VIDEO BELOW I MADE ABOUT THIS: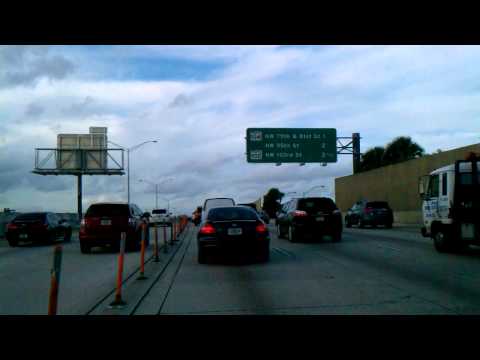 Read the full report at: http://reason.org/studies/show/mobility-in-southeast-florida.
SOME ROADS THAT WOULD BE TOLLED
•  Southwest 10th Street: at Powerline Road, Military Trail, Newport Center and Southwest 24th Avenue.
•  Sample Road: at Lyons Road, Powerline Road and Military Trail.
•  Oakland Park Boulevard: at Northwest 31st and Northwest 21st avenues.
•  Broward Boulevard: at Northwest 31st and Northwest 27th avenues.
•  Pines/Hollywood Boulevard: at Southwest 135th Avenue, Flamingo Road, Hiatus Road, Palm Avenue, Douglas Road, University Drive and 72nd Avenue.
•  U.S. 441 from Glades Road to Pines/Hollywood Boulevard: at Palmetto Park Road, Hillsboro Boulevard, Wiles Road, Sample Road, Royal Palm Boulevard, Coconut Creek Parkway, Atlantic Boulevard, Kimberly Boulevard, McNab Road, Commercial Boulevard, Oakland Park Boulevard, Northwest 19th Street, Broward Boulevard, Davie Boulevard, Griffin Road, Stirling Road and Taft Street.
•  U.S. 441 from Southern Boulevard to Lantana; at Forest Hill and Lake Worth.
•  Southern Boulevard: at Military Trail.
•  Boynton Beach Boulevard: at Jog Road, Military Trail, Lawrence, Congress Avenue.
•  Glades Road: at Lyons Road, Jog Road, St. Andrews, Military Trail/I-95, Dixie Highway.
Read more here: http://www.miamiherald.com/2012/03/27/v-fullstory/2715957/tolled-express-lanes-proposed.html#storylink=cpy
(SUN SENTINEL)   A 10-year-old dog was removed from a Belle Glade home on Tuesday after her owner cut off her leg with a handsaw, Palm Beach County Animal Care and Control officials said.
Luc Jean Baptiste, 48, of Belle Glade was charged with felony animal cruelty after a witness said he duct-taped the dog's mouth shut, hog-tied her, and sawed through her right front leg. The witness told animal control officers that Baptiste removed the leg because the dog had injured it, officials said.
Animal control was called to the house in the 600 block of Southwest Avenue C by the sheriff's office, which was investigating a shooting at the residence. In all, the county removed seven adult dogs and four puppies from the home.
Animal control officials say the abuse case is one of the worst they have seen.
"My initial reaction to something like this is just absolute anger," Animal Control Director Dianne Sauve said Friday. "I don't buy for one minute that someone is trying to help an animal by doing something so barbaric to it. "
Animal control officials have named the dog, a pit bull-type mix, Karma.
"I think that what goes around comes around," said Sauve, who came up with the name. "I think whoever did this to this dog is going to be carrying a karmic debt for a long, long time."
The dog also has a severe infection in her uterus, a sign that she has been used for breeding, officials said.
Karma is expected to undergo surgery to remove her uterus today. Officials hope to repair her leg and eventually put her up for adoption.
http://www.sun-sentinel.com/news/local/breakingnews/sfl-glades-man-charged-with-animal-cruelty-20120406,0,3998245.story
(MIAMI NEW TIMES)   More than two dozen cops swarmed Occupy Miami's Overtown safehouse yesterday afternoon after responding to what appears to have been a bogus terrorism tip.
The raid was the second on Occupy Miami in the past six weeks. On January 31, Miami-Dade cops evicted protesters from Government Center. This time it was City of Miami police officers that arrived in SWAT vans with their assault rifles drawn.
"They were pointing guns at children!" said Ramy Mahmoud, one of three Occupy Miami members taken in for questioning and then released without charges. Miami Police did not return a request for comment left last night. As soon as they do, we will update this post.
Mahmoud and other Occupy Miami members were preparing to travel downtown to protest the birthday of Chase Bank CEO Jaime Dimon when at least half a dozen police vehicles screeched to a halt in front of the building on Northwest Seventh Street.
A cop in a dress shirt with a bullet-proof vest jumped out of an unmarked car, aimed his gun at them, and shouted "everyone on the ground," according to Occupy Miami members.
"I thought it was either a joke or he was robbing us," said an occupier who gave his name only as Cobra. "Then an ice-cream truck full of SWAT officers pulled up."
Nearly 30 cops — many carrying assault rifles or shotguns — spread out around the building, ordering people on the ground and patting them down for weapons.
"They said that they had gotten a tip that we had 'long guns' and were going to use them at our protest," says Thomas Parisi. "But we are a peaceful movement and told them that we had no intention of doing anything like that."
Occupy Miami members, who have been living at the building since they were evicted from Government Center, said the cops mistreated them.
"They stepped on our backs to see if we were packing guns," Parisi said. "They forced a 57-year-old diabetic woman onto the ground. And the pointed their guns at my wife."
Three occupiers were initially put in handcuffs but were released at the scene. Cops then asked Mahmoud and two other Occupy Miami members to accompany them downtown for questioning. There they were kept in different rooms and interviewed for a little over an hour, he said.
"They were asking me questions like, 'Are you a Muslim?' and 'Do you love this country?'" Mahmoud said. "I said hell no I don't love this country and it's because of shit like this."
"They are calling us terrorists but what I saw today was demons pointing guns at us," he added. "They terrified us."
Follow Miami New Times on Facebook and Twitter @MiamiNewTimes. Follow this journalist on Twitter @MikeMillerMiami.
http://blogs.miaminewtimes.com/riptide/2012/03/occupy_miamis_overtown_safehou.php
(Stephanie Kienzle)   Are we there, yet? What is it with people who get elected to local offices and then become drunk with power?  We saw this phenomenon with former North Miami Beach mayor Myron Rosner, who used his position to bully anyone who stood in his way when he wanted something.  We saw this with current councilman Frantz Pierre, who actually believed he could have the former city manager Kelvin Baker block the alley next to his home with a barrier to keep traffic from driving on a public access road.  (I hear the barrier has finally been removed.  How's that working out for you, Frantzie?)
The biggest offender of all, however, is the current mayor of North Miami, Andre Pierre.  This dude is so power crazy, he makes Myron and Frantz look like amateurs.
Andre's latest act of chutzpah is documented in this Miami Herald article, North Miami teacher called to principal's office after call from mayor.
Words fail me.
Okay, not really.
Read more at:  http://www.votersopinion.com/?p=3041
(Stephanie Kienzle for FederalJack)   Since they've been out of the spotlight for a while, certain members of the North Miami Beach Police Department have been feeling slighted.  Maybe they're jealous of all the publicity Officer Elizabeth Torres has been getting for her role in trying to put a hex on the city manager, Lyndon Bonner.  That story has gone positively viral!  I'm guessing her, ahem, colleagues are out of sorts at not getting the negative attention they so desperately crave.
Sure enough, the forum over at LEOAffairs.com has been ablaze with the story, and of course, they just HAD to blame someone else for the embarrassment they have again brought upon our city.  And, of course, themselves.  I seem to be one of their favorite scapegoats along with the Mayor.
For no apparent reason, yesterday one of the cops thanked me.  For what, I'm not sure, but someone using the original name of "guest" made a comment, which was followed by yet another brilliant remark from one of NMB's finest who goes by the name of "FUPAYME."
Isn't that special?
First, Mr. guest blames me for Birdseed-Gate, then predicts that Officer Torres will be able to screw the city for $100,000.00, then actually believes the Mayor will be paying that money.  What a freaking moron!
Newsflash, guest:  I had nothing to do with the bird brained scheme (no pun intended, of course) cooked up by what appears to be a bird brained cop.  But, I guess you needed someone else to blame because you really do think you're all perfect and better than everyone else.  Truth is, you dummies have no one to blame but yourselves for the stupid things you've been doing.
Of course, I had to play with the man-child cop and posted a comment on my last blog (since I won't lower myself to comment on theirs).  I wrote:
Stephanie Kienzle says:
December 2, 2011 at 9:18 am
Message to the dumb f**king cop who posted the ridiculous comment on that stupid leoaffairs website: I had nothing to do with the two idiots who decided to "put a curse" on the city manager. They did this to themselves. Of course, you need a scapegoat so you continue to blame me for all the problems you create for yourself. You also blame the mayor. Nice try. But, while you're kissing Myron's ass and helping him dig dirt on his enemies (yeah, we know what you're up to), keep in mind one thing: Myron is history in this town. I'll laugh my ass off when he gets what's coming to him and all of you go down with him. I'm just saying.
Warmest,
Staph Infection
Yeah, I just had to screw with him for sport.
Having to have the last word, "guest" (reincarnated as "infection fighter") responded with:
Hmmm….  Let's see.  He's the one who brought me into the Santeria story, and now he's telling me I'm obsessed with the police department?  I hate to tell you, buddy, I don't give you or the NMBPD a moment's thought until one of you do something stupid and make the news.  DUH!  And, as for that "fat paycheck" we're financing, enjoy it while you can.
Oh, and…Warmest.
As for the comment by FUPAYME, we already know these cops don't give a crap about our "dump of a city," and that all they want is their "fat paychecks" so they can go back to their "clean and criminal free city."  They've made that abundantly clear.
I guess it wouldn't dawn on FUPAYME and his ilk that if they did a better job being cops instead of shooting their loads on LEOAffairs or "liming at the Nankin," North Miami Beach wouldn't have such a high crime rate in the first place.
I'm just saying.
So, yeah, the handful of miscreants who unfortunately wear the NMBPD uniform are showing their true colors yet again.  Unfortunately, we've all come to expect this type of childish behavior from them.  Frankly, it's getting old.  They can't even begin to imagine how many residents are so over them and are hoping the city doesn't renew their contract.  At this point, we'd positively rejoice at having the Miami-Dade Police Department as our cops!  This arrangement seems to work out well for Miami Lakes and lots of other cities in our county.  In Broward County, where the Sheriff's Department has taken over nearly every city, no one's complaining there.
I'm just saying.
In the meantime, I have an idea for those of you who just can't behave yourselves:  Why don't you show up for work, do your jobs, be professional law enforcement officers for a change, clock out, go home and STFU.  You don't live in North Miami Beach and, other than collecting your "fat paychecks," you have no vested interest in our city.  So go live your private lives and stay out of ours.  That should work out well for all of us.
Warmest.
Stephanie Kienzle
(Stephanie Kienzle)   The absentee voter fraud scandal in northeast Miami-Dade County continues to get attention.  The Miami Herald's most recent article, Probe finds 'unscrupulous' absentee-voting practices at ALF (http://www.miamiherald.com/2011/11/28/2522333/probe-finds-unscrupulous-absentee.html), states, "A Miami-Dade ethics commission investigation has found questionable absentee-ballot practices at a North Miami Beach assisted-living facility where three residents reported voting problems — and where, after a visit from investigators, one employee said she was instructed to toss all future ballots 'in the garbage." The nine-month investigation began after Judith Thompson was turned away from the polls in last year's general election after being told she had already voted absentee — though she had never requested a ballot. Two other women at the Park Plaza Retirement Residence also had trouble voting by mail."
Not surprisingly, "No charges were filed as a result of the probe, initiated by the Miami-Dade state attorney's office in January and completed by the Commission on Ethics and Public Trust last month."
The common denominator here is that back in January the Miami-Dade state attorney was Joe Centorino, and the executive director of the Miami Dade County Commission on Ethics and Public Trust is now….you guessed it…Joe Centorino.
I'm shocked.  Shocked, I tell you.  Simply shocked.
Yeah, right.
Read more at:  http://www.votersopinion.com/?p=2084
(Stephanie Kienzle)   I've stated on many occasions that North Miami Beach is the epicenter of the psycho-magnet known as South Florida.  My theory continues to be proven scientifically on an almost daily basis.
For example, a pretty good rule of thumb to follow is if you don't want people to think you're crazy, then don't do crazy shit.
Now, I'm certainly no expert on public relations, but it sure seems to me that the North Miami Beach Police Department doesn't need any more bad press.  I'm just saying.
Don't hold your breath around here because just when you think it's safe to admit you live in this city (especially when we're right next door to North Miami – the Corruption Capital of South Florida), someone usually does something so bizarre and so incredibly stupid that the press releases seem to write themselves.
Read more at:  http://www.votersopinion.com/?p=2094