(PRISON PLANET)   The New York Times and the Washington Post have posted articles detailing a plan by the Pentagon to detect and track popular ideas on social networks.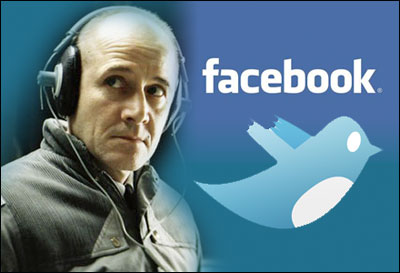 They are not interested in what people think about Lady Gaga or the latest cooking recipes.
In 2005, it was reported that the Pentagon was adding anti-war groups and individuals to a terrorist database. A Defense Department document leaked to NBC provided a "first inside look at how the U.S. military has stepped up intelligence collection inside this country since 9/11, which now includes the monitoring of peaceful anti-war and counter-military recruitment groups."
Northcom also has a unit dedicated to snooping on political activists.
In 2002, the Pentagon established CIFA, Counterintelligence Field Activity, by directive. Its size and budget were classified. CIFA created a database, TALON (Threat and Local Observation Notice), to keep track of antiwar activists and individuals opposed to invading and bombing small defenseless countries. After a spate of bad PR, the government said CIFA was to be dismantled. It was later revealed that its operations were outsourced and privatized.
The Washington Post admits the DARPA – the Defense Advanced Research Projects Agency – plan to hire programmers and researchers to build software to track "popular ideas" on social networks is political.
The plan "makes a certain amount of sense, if you think about how Twitter, Facebook and other social media networks have been used to broadcast the ideas of revolutionaries, protesters and other political figures over the past few years," writes Hayley Tsukayama.
And, as the report highlights, DARPA could also use the social networks to identify threats. It suggests, for example, that the agency could look into incidences of several people in the same area posting messages about rumors that a wanted individual is hiding nearby.
Or where the next demonstration against the Federal Reserve will be held so agents provocateurs and informers can be dispatched.
"Social networks can allow the military not only to follow but also to shape the action," writes David Streitfeld for the New York Times.
In 2009, the Pentagon released a "Force Protection Advisory" about "planned protests at all Federal Reserve Banks and office locations within the United States." The "advisory" went out to Northcom and the FBI.
On November 22, 2008, Alex Jones led a rally at the Federal Reserve Bank in Dallas Texas. The Dallas protest is specifically mentioned in the official Army document. Ron Paul's brother was also in attendance.
http://www.prisonplanet.com/pentagon-plan-to-monitor-activists-on-facebook-and-twitter.html
(NY POST)
Jamie Hyneman – co-host of Discovery's "Mythbusters" — has been quietly working for the government when the cameras stop rolling.
He's been working on a lightweight armor shield to protect military vehicles from roadside bombs and the first fully realistic, robotic dummy for training military medics.
"Because he is so popular, he has people calling him all the time saying, 'I love your show, but I am in mortal danger here. Can you do something to help us?' " says Edmond Dougherty of Pennsylvania-based Ablaze Development, his partner on several recent projects.
"It's Army people and Navy people — the guys with the boots on the ground."
In fact, if the opportunity to mass-produce the products he has developed for the government came along, Hyneman told The Post, he'd no longer have time to make his long-running TV show.
"I don't want to just do this stuff purely for my own personal education," he says.
"The reality is, in order to get something like this out into the market, I would have to devote myself to it [completely]. I can't just do it in my spare time."
In 2009, Dougherty and Hyneman received their fourth grant from the Office of Navy Research, $70,000 for development of a lightweight armor shield to protect military vehicles — especially the vulnerable Humvee — from the homemade explosive devices that have become the enemy weapons of choice in Iraq and Afghanistan.
Last fall, a Navy spokesman says, the government decided not to fund a Phase 2 for the device. But Hyneman hasn't given up.
"We are putting it out there, and somebody may take it and run with it," he says. "You never know.
"The government is probably more comfortable commissioning . . . armor to put on vehicles from the Acme Armor Company rather than somebody from 'Mythbusters.' "
Hyneman, who grew up on a farm in Indiana, worked as a diver, boat captain and animal wrangler before getting into the special-effects business, where he learned the fine art of explosives.
He opened up the San Francisco-based M5 Industries — where "Mythbusters" is filmed — 16 years ago.
"Ninety percent of this is just for my personal satisfaction of solving a puzzle," he says. "Saving lives is the other 10 percent.
"My primary motivation — even being on the show — is probably selfish. It is an exercise that I find intriguing."
Hyneman's curiosity led him first to develop a fully realistic, robotic medical dummy.
"The military has found that the new medics in the field tend to freeze if they are exposed to something horrific, like somebody who just had their legs blown off," he says. "They need to battle-harden them."
The avatars — now being used to prepare medics for unexpected situations — have flesh-like rubber skin and hair. They even give off a bad smell.
"If they are blown off at the knee, there is an open artery that spits blood out," Hyneman says. "If they run out of blood [while treating the wound], you have just failed your training."
http://www.nypost.com/p/entertainment/tv/govt_side_job_WAcDqqg5ntw9y4CVywXxPO
"His name is Akhbar Khan (Han), He owns the house." says his neighbor. Obama staged this whole scam with the Patreaus Panetta Pakistani Pentagon CIA, that has been supplying the "Taliban" so the Pentagon can run a fake war to keep rebuilding Afghaniistan for Hillary Clinton and the CIA. The fake Nobel Peace Prize winner is really the worlds greatest psychopathic liar covert warlord. His approval rating is up, sheep. 9/11 was an inside job, and Obama is still doing it. Source: Osama Bin Laden: Pakistan's scepticism over videos (BBC)
http://www.youtube.com/watch?v=M0ncNK_2fnk
(DISCOVER MAGAZINE)   It sounds like the deranged words of a conspiracy theorist: The U.S. military is (not so) secretly creating software that'll generate phony online personae in order to subtly influence social media conversations and spread propaganda. But what may sound like wacky theory is actually wacky reality, or at least will soon be, depending on whether it's already in the works.
Dubbed the "online persona management service," this technology would enable a single soldier to assume upwards of 10 different identities. As United States Central Command Commander Bill Speaks told The Guardian, "The technology supports classified blogging activities on foreign-language websites to enable Centcom to counter violent extremist and enemy propaganda outside the US."
Once developed, the software could allow US service personnel, working around the clock in one location, to respond to emerging online conversations with any number of co-ordinated messages, blogposts, chatroom posts and other interventions. Details of the contract suggest this location would be MacDill air force base near Tampa, Florida, home of US Special Operations Command. [The Guardian]
Said to be part of the Operation Earnest Voice (OEV) program, a psychological warfare weapon first used in Iraq to counter al-Qaida's online followers, the goal of this latest project is twofold: To argue against extremist propaganda and to make sure "the world according to the U.S." is heard. As General James Mattis told a Senate committee: "OEV seeks to disrupt recruitment and training of suicide bombers; deny safe havens for our adversaries; and counter extremist ideology and propaganda." He added that Centcom was working with "our coalition partners" to develop new techniques and tactics the US could use "to counter the adversary in the cyber domain". Some have compared these government sock puppets to China's own online controlling ways, though that's probably an exaggeration (you can't even easily view Facebook in China). Others may argue that what the government is doing is necessary, pointing out that none of the undercover personae would be writing in English (they'd be in Arabic, Farsi, Urdu, and Pashto) and wouldn't interact with U.S. audiences (at least in theory). And to top it off, they've ruled out using Facebook and Twitter. The main reason why the government couldn't troll against American citizens is because, well, it's illegal. For example, as The Guardian notes, "Last year a New York lawyer who impersonated a scholar was sentenced to jail after being  convicted of "criminal impersonation" and identity theft.
So we probably don't have to worry about the government trolling us, though it does raise some questions: What happens, for example, if a Farsi-, Arabic-, Urdu-, or Pashto-speaking American citizen uses the internet? The questions are many, but for now, we're still in the dark: The military is still allegedly developing the project—but if there are some comments below in Pashto, all bets are off.
http://blogs.discovermagazine.com/discoblog/2011/03/18/u-s-government-writes-software-to-enable-squads-of-propaganda-comment-trolls/
The US military is developing software that will let it secretly manipulate social media sites by using fake online personas to influence internet conversations and spread pro-American propaganda.
A Californian corporation has been awarded a contract with United States Central Command (Centcom), which oversees US armed operations in the Middle East and Central Asia, to develop what is described as an "online persona management service" that will allow one US serviceman or woman to control up to 10 separate identities based all over the world.
The project has been likened by web experts to China's attempts to control and restrict free speech on the internet. Critics are likely to complain that it will allow the US military to create a false consensus in online conversations, crowd out unwelcome opinions and smother commentaries or reports that do not correspond with its own objectives.
The discovery that the US military is developing false online personalities – known to users of social media as "sock puppets" – could also encourage other governments, private companies and non-government organisations to do the same.
The Centcom contract stipulates that each fake online persona must have a convincing background, history and supporting details, and that up to 50 US-based controllers should be able to operate false identities from their workstations "without fear of being discovered by sophisticated adversaries".
Centcom spokesman Commander Bill Speaks said: "The technology supports classified blogging activities on foreign-language websites to enable Centcom to counter violent extremist and enemy propaganda outside the US."
He said none of the interventions would be in English, as it would be unlawful to "address US audiences" with such technology, and any English-language use of social media by Centcom was always clearly attributed. The languages in which the interventions are conducted include Arabic, Farsi, Urdu and Pashto.
Centcom said it was not targeting any US-based web sites, in English or any other language, and specifically said it was not targeting Facebook or Twitter.
Once developed, the software could allow US service personnel, working around the clock in one location, to respond to emerging online conversations with any number of co-ordinated messages, blogposts, chatroom posts and other interventions. Details of the contract suggest this location would be MacDill air force base near Tampa, Florida, home of US Special Operations Command.
Centcom's contract requires for each controller the provision of one "virtual private server" located in the United States and others appearing to be outside the US to give the impression the fake personas are real people located in different parts of the world.
It also calls for "traffic mixing", blending the persona controllers' internet usage with the usage of people outside Centcom in a manner that must offer "excellent cover and powerful deniability".
The multiple persona contract is thought to have been awarded as part of a programme called Operation Earnest Voice (OEV), which was first developed in Iraq as a psychological warfare weapon against the online presence of al-Qaida supporters and others ranged against coalition forces. Since then, OEV is reported to have expanded into a $200m programme and is thought to have been used against jihadists across Pakistan, Afghanistan and the Middle East.
OEV is seen by senior US commanders as a vital counter-terrorism and counter-radicalisation programme. In evidence to the US Senate's armed services committee last year, General David Petraeus, then commander of Centcom, described the operation as an effort to "counter extremist ideology and propaganda and to ensure that credible voices in the region are heard". He said the US military's objective was to be "first with the truth".
This month Petraeus's successor, General James Mattis, told the same committee that OEV "supports all activities associated with degrading the enemy narrative, including web engagement and web-based product distribution capabilities".
Centcom confirmed that the $2.76m contract was awarded to Ntrepid, a newly formed corporation registered in Los Angeles. It would not disclose whether the multiple persona project is already in operation or discuss any related contracts.
Nobody was available for comment at Ntrepid.
In his evidence to the Senate committee, Gen Mattis said: "OEV seeks to disrupt recruitment and training of suicide bombers; deny safe havens for our adversaries; and counter extremist ideology and propaganda." He added that Centcom was working with "our coalition partners" to develop new techniques and tactics the US could use "to counter the adversary in the cyber domain".
According to a report by the inspector general of the US defence department in Iraq, OEV was managed by the multinational forces rather than Centcom.
Asked whether any UK military personnel had been involved in OEV, Britain's Ministry of Defence said it could find "no evidence". The MoD refused to say whether it had been involved in the development of persona management programmes, saying: "We don't comment on cyber capability."
OEV was discussed last year at a gathering of electronic warfare specialists in Washington DC, where a senior Centcom officer told delegates that its purpose was to "communicate critical messages and to counter the propaganda of our adversaries".
Persona management by the US military would face legal challenges if it were turned against citizens of the US, where a number of people engaged in sock puppetry have faced prosecution.
Last year a New York lawyer who impersonated a scholar was sentenced to jail after being convicted of "criminal impersonation" and identity theft.
It is unclear whether a persona management programme would contravene UK law. Legal experts say it could fall foul of the Forgery and Counterfeiting Act 1981, which states that "a person is guilty of forgery if he makes a false instrument, with the intention that he or another shall use it to induce somebody to accept it as genuine, and by reason of so accepting it to do or not to do some act to his own or any other person's prejudice". However, this would apply only if a website or social network could be shown to have suffered "prejudice" as a result.
• This article was amended on 18 March 2011 to remove references to Facebook and Twitter, introduced during the editing process, and to add a comment from Centcom, received after publication, that it is not targeting those sites.
http://www.guardian.co.uk/technology/2011/mar/17/us-spy-operation-social-networks?CMP=twt_gu
(RAW STORY)   These days, with Facebook and Twitter and social media galore, it can be increasingly hard to tell who your "friends" are.
But after this, Internet users would be well advised to ask another question entirely: Are my "friends" even real people?
In the continuing saga of data security firm HBGary, a new caveat has come to light: not only did they plot to help destroy secrets outlet WikiLeaks and discredit progressive bloggers, they also crafted detailed proposals for software that manages online "personas," allowing a single human to assume the identities of as many fake people as they'd like.
The revelation was among those contained in the company's emails, which were dumped onto bittorrent networks after hackers with cyber protest group "Anonymous" broke into their systems.
In another document unearthed by "Anonymous," one of HBGary's employees also mentioned gaming geolocation services to make it appear as though selected fake persons were at actual events.
"There are a variety of social media tricks we can use to add a level of realness to all fictitious personas," it said.
Government involvement
Eerie as that may be, more perplexing, however, is a federal contract from the 6th Contracting Squadron at MacDill Air Force Base, located south of Tampa, Florida, that solicits providers of "persona management software."
While there are certainly legitimate applications for such software, such as managing multiple "official" social media accounts from a single input, the more nefarious potential is clear.
Unfortunately, the Air Force's contract description doesn't help dispel suspicions. As the text explains, the software would require licenses for 50 users with 10 personas each, for a total of 500. These personas would have to be "replete with background , history, supporting details, and cyber presences that are technically, culturally and geographacilly consistent."
It continues, noting the need for secure virtual private networks that randomize the operator's Internet protocol (IP) address, making it impossible to detect that it's a single person orchestrating all these posts. Another entry calls for static IP address management for each persona, making it appear as though each fake person was consistently accessing from the same computer each time.
The contract also sought methods to anonymously establish virtual private servers with private hosting firms in specific geographic locations. This would allow that server's "geosite" to be integrated with their social media profiles, effectively gaming geolocation services.
The Air Force added that the "place of performance" for the contract would be at MacDill Air Force Base, along with Kabul, Afghanistan and Baghdad. The contract was offered on June 22, 2010.
It was not clear exactly what the Air Force was doing with this software, or even if it had been procured.
Manufacturing consent
Though many questions remain about how the military would apply such technology, the reasonable fear should be perfectly clear. "Persona management software" can be used to manipulate public opinion on key information, such as news reports. An unlimited number of virtual "people" could be marshaled by only a few real individuals, empowering them to create the illusion of consensus.
You could call it a virtual flash mob, or a digital "Brooks Brothers Riot," so to speak: compelling, but not nearly as spontaneous as it appears.
That's precisely what got DailyKos blogger Happy Rockefeller in a snit: the potential for military-run armies of fake people manipulating and, in some cases, even manufacturing the appearance of public opinion.
"I don't know about you, but it matters to me what fellow progressives think," the blogger wrote. "I consider all views. And if there appears to be a consensus that some reporter isn't credible, for example, or some candidate for congress in another state can't be trusted, I won't base my entire judgment on it, but it carries some weight.
"That's me. I believe there are many people though who will base their judgment on rumors and mob attacks. And for those people, a fake mob can be really effective."
It was Rockefeller who was first to highlight the Air Force's "persona" contract, which was available on a public website.
A call to MacDill Air Force Base, requesting an explanation of the contract and what this software might be used for, was answered by a public affairs officer who promised a call-back. No reply was received at time of this story's publication.
Other e-mails circulated by HBGary's CEO illuminate highly personal data about critics of the US Chamber of Commerce, including detailed information about their spouses and children, as well as their locations and professional links. The firm, it was revealed, was just one part of a group called "Team Themis,"tasked by the Chamber to come up with strategies for responding to progressive bloggers and others.
"Team Themis" also included a proposal to use malware hacks against progressive organizations, and the submission of fake documents in an effort to discredit established groups.
HBGary was also behind a plot by Bank of America to destroy WikiLeaks' technology platform, other emails revealed. The company was humiliated by members of "Anonymous" after CEO Aaron Barr bragged that he'd "infiltrated" the group.
A request for comment emailed to HBGary did not receive a reply.
Update: HBGary Federal among bidders
A list of interested vendors responding to the Air Force contract for "persona management software" included HBGary subsideary HBGary Federal, further analysis of a government website has revealed.
Other companies that offered their services included Global Business Solutions and Associates LLC, Uk Plus Logistics, Ltd., NevinTelecom, Bunker Communications and Planmatrix LLC.
www.rawstory.com/rs/2011/02/18/revealed-air-force-ordered-software-to-manage-army-of-fake-virtual-people/