(FEDERALJACK)   On this edition of DTRH Popeye covers the State of the Union address live with fellow radio show host Joe Joseph. Picking up in the second hour of Joe's radio show, and continuing into Popeye's, they give colorful commentary as the lies flow like water from Reich Fuhrer Obama. In the second half of the broadcast Popeye gets into the 2014 Grammy Awards and the blatant witchcraft being preformed live on TV. Finishing up on a positive note, Popeye plays an audio clip from Russell Means' last interview where his wife and him discuss the sacred feminine, native culture's gender roles, and how they help form the basis of their culture's structure.
YOU CAN ALSO LISTEN ON YOUTUBE
LINKS TO THE ARCHIVE PAGES, LISTEN LIVE PAGE, FACEBOOK & TWITTER
DTRH W/ POPEYE FULL DOWNLOADABLE ARCHIVES

DTRH w/ POPEYE FULL ARCHIVE PAGE

DTRH LISTEN LIVE PAGE

THE TRUTH FREQUENCY RADIO NETWORK

FACEBOOK

TWITTER ACCOUNTS:

FEDERALJACK

DTRH W/ POPEYE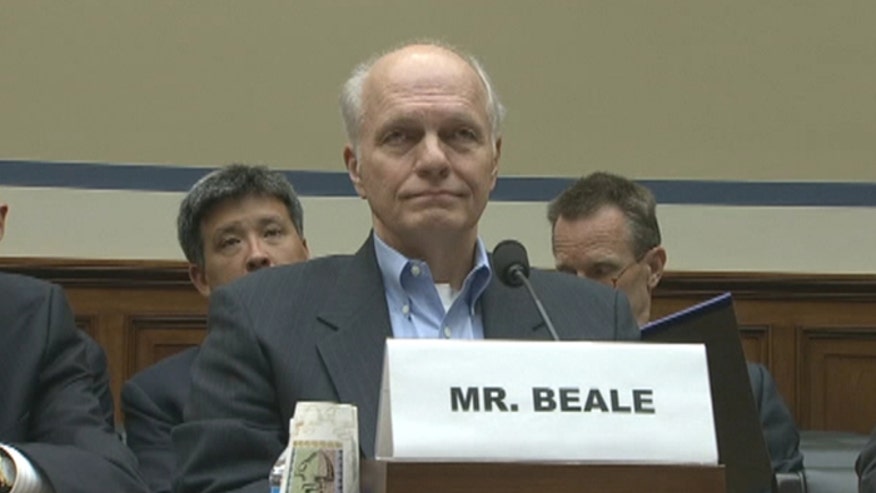 (FOXNEWS)   A former high-ranking EPA official who recently was sentenced to prison for fraud told lawmakers last month that, before he left the agency, he was working on a "project" examining ways to "modify the DNA of the capitalist system."
The startlingly blunt comment was included in newly released transcripts of John Beale's deposition before the House Oversight and Government Reform Committee. One group that is frequently critical of the Obama administration's energy policy, the Institute for Energy Research, said the claim is a "smoking gun" that reveals the administration's true intentions.
Beale's credibility is not exactly ironclad. He was sentenced last month to 32 months in prison for bilking taxpayers out of nearly $1 million by pretending to be a CIA agent.
But, in the transcripts, he spoke in great detail about meetings he supposedly had with EPA Administrator Gina McCarthy, back when she was heading the Office of Air and Radiation.
Beale said they started meeting in mid-2009. At a lunch, he claimed his "fabricated story about working at CIA came up," but that they also discussed various projects. Beale recalled telling her about a project he wanted to work on, which he described as "green economics."
He argued that environmental regulation was reaching its "limits" because "the fundamental dynamic of the capitalistic system is for businesses and individuals to try to externalize all costs." So he said he began working on his plan.
This, he said, involved "coming up with specific proposals that could be — could have been proposed either legislatively or things which could have been done administratively to kind of modify the DNA of the capitalist system."
Beale said this "is not new" and has happened "tens of times" in the history of capitalism.
"It's not a God-given system that was created once and never changes. It changes all the time," he said. He said McCarthy was aware of the project and "we met frequently to talk about it and had actually quite deep discussions." He said, though, that the project was eventually "scrapped."
He also claimed the project began under the George W. Bush administration.
But, at a time when oil and gas companies are complaining about crushing EPA regulations, the IER seized on the comments as proof that the administration is pursuing a power grab.
"This is the smoking gun. For years, we have been saying the real agenda behind this administration's energy and environmental policies is the just what President Obama has said it is: to fundamentally transform America," Senior Vice President Dan Kish said in a statement. "In his testimony under oath, Beale, perhaps unwittingly, has laid bare the administration's end goal. The President's policies are not about carbon, they are not about coal, they are not even about energy and the environment. … These policies are not about energy, but power."
In releasing the 263 pages of documents, the leaders of the House Oversight and Government Reform Committee did not comment on that section of the transcript. They focused instead on the fraud Beale committed by lying about working for the CIA.
"This is an egregious example of fraud on the highest levels of management at the EPA," Rep. Darrell Issa, R-Calif., chairman of the committee, said.
Rep. Elijah Cummings, D-Md., top Democrat on the committee, said Beale "spun an elaborate web of lies" to fool his EPA supervisors.
The EPA has not responded to a request for comment.
Beale's case was one of the more bizarre schemes run against the government in recent memory. Beale's trickery began more than a decade ago and was largely a scheme to collect unearned pay over roughly 13 years — essentially by saying he needed to take off one workday a week for CIA missions.
In the committee documents, Beale acknowledged this was a "fantasy."
(FEDERALJACK)   Their job is to get the ungettable. A unit of mostly young hackers are helping the National Security Agency break into computers around the world to access some of the toughest targets. German news magazine Der Spiegel published a report over the weekend revealing the National Security Agency's top hacking unit, the Tailored Access Operations. It's best described as a team of digital plumbers that unclog blocked access to targets. One of their most sophisticated set of tools lists Facebook, Twitter and YouTube as targets, and was used to gain important economic data from high-ranking members of OPEC.
(NEWSMAX)   New gun control laws are unconstitutional, say scores of sheriffs throughout the country, and they are either refusing to enforce the statutes or have signaled that enforcement will be a very low priority, The New York Times reports.
In Colorado, a law passed by the Legislature that requires universal background checks and bans ammunition magazines that hold more than 15 rounds is being challenged in a lawsuit by all but seven of the state's 62 elected sheriffs who say it's a violation of Second Amendment rights.
New laws in other states which were brought about as a result of the Newtown, Conn. school shootings, are also facing resistance, the Times reported Sunday.
In New York, two sheriffs have said publicly they would not enforce new gun laws, some of the toughest in the nation. In California, a delegation of sheriffs tried to convince Gov. Jerry Brown to veto gun bills that would ban semiautomatic rifles with detachable magazines and lead ammunition for hunting, according to the Times.
"All law enforcement agencies consider the community standards — what is it that our community wishes us to focus on — and I can tell you our community is not worried one whit about background checks or high-capacity magazines," Sheriff W. Pete Palmer of Chaffee County, Colo., told the Times.
Nevertheless, in Colorado, officials argue the laws are already having an effect. They point to figures that show, of the 3,445 background checks on private gun sales since the law went into effect on July 1, 70 people were denied weapons.
"Particularly on background checks, the numbers show the law is working," Eric Brown, a spokesman for Colorado Gov. John Hickenlooper, told the Times.
Police chiefs in the state, particularly in urban areas, agree that the new laws are making an impact, saying most gun stores have stopped selling high-capacity magazines for personal use, though some continue to do so illegally.
Law enforcement officials, however, acknowledge that sheriffs have wide discretion in enforcing state laws. And while sheriffs could be removed for refusing to enforce state statutes, one expert suggests that many governors could be reluctant to use such powers.
"In my oath it says I'll uphold the U.S. Constitution and the Constitution of the State of Colorado," Sheriff John Cooke of Weld County told the Times. "It doesn't say I have to uphold every law passed by the Legislature."
(FEDERALJACK)   People put in ovens, entire families kidnapped, Christians and Alawites executed – these horrifying reports come from the town of Adra north of the Syrian capital, which has been occupied by Islamist rebel groups. At least hundred people are said to have been massacred by the rebels – but as the Syrian army continues to liberate the city, that number is expected to rise.
Horrifying reports from a Syrian town suggest that entire families have been massacred by rebel fighters and also that civilians have been kidnapped and used as human shields. Al-Qaeda linked jihadists forced their way to Adra, which is just outside Damascus, launching a massive assault on residents which reportedly killed more than eighty people – including children.
(SGT REPORT)   Our friend Mark S. Mann is back. He's a cop, he's in Connecticut and on the one year anniversary of the Sandy Hook Elementary "event" in Newton, CT., Mark is taking us through the "official story" – and the "official report" on what happened on December 14, 2012. Nearly every single question we raised in our interview nearly one year ago, remains. But today, because of the actions and official claims of law enforcement – combined with sealed files and overwhelming levels of secrecy, we have even MORE questions about the events that is being used to target our Second Amendment rights.
For REAL News & Information:
http://sgtreport.com/
http://thelibertymill.com/
(FOXNEWS)   People in the U.S. territory of Puerto Rico may not be grappling with the botched Obamacare website rollout, but the program could spell disaster for the island, which is facing a financial crisis and where half the population already is dependent on free health insurance, members of the island's medical community warned.
Puerto Ricans, who are born U.S. citizens, do not enroll on the healthcare.gov because their government decided not to offer health-insurance exchanges, which offers private plans.
Instead, the Affordable Care Act, commonly dubbed Obamacare, has mostly arrived on the island in the form of a $6.3 billion social welfare check allocated to the government to continue to pay for its Medicaid and for its separate, free state-run insurance program called "Mi Salud," between 2014 and 2019.
And that could be disastrous for Puerto Rico.
Roughly 1.7 million Puerto Ricans already depend on free health insurance in the island and local doctors are concerned that the additional financial infusion to the program will make the territory even more dependent on welfare.
Critics in the medical community said the move could prove to be a disaster, considering the U.S. territory is already deemed as the "Next Detroit" and "America's Greece."
The island's government is over $70 billion in debt and about 45 percent of Puerto Ricans have incomes below the U.S. federal poverty line and nearly 40 percent of all households receive food stamps.
Despite the bleak economic outlook, Puerto Rico's surprisingly low 7.2 percent uninsured rate is actually second-lowest compared to all states, behind Massachusetts.
"Our healthcare system is going to be entirely a welfare system," warned Dr. Guillermo Tirada, an internal medicine specialist in Puerto Rico for 18 years. "It's sad."
Because of its U.S. territory status, Obamacare gave Puerto Rico the choice to either allocate $925 million dollars — of the total $6.3 billion package destined to the island — toward establishing health care insurance exchanges or to opt to use the money to fund its Medicaid program until 2019.
The nearly bankrupt government took the second option and is channeling the funds through "Mi Salud," something critics like Dr. Tirada said was a wrong and desperate step in the government's desperate search for temporary financial relief.
The move, critics said, takes Puerto Rico further away from a free market privatized health care system and speeds up the ongoing exodus of doctors, who are flocking to the U.S. mainland in search of higher salaries and better reimbursements from insurers.
According to Puerto Rico's Medical Licensing and Studies Board, the number of doctors in Puerto Rico dropped by 13 percent in the last five years, from 11,397 to 9,950. The biggest loss was among primary care physicians and specialists.
Dr. Jesus Alvarez, a "maternal fetal medicine specialist," left the island in April. He was one of just five MFM specialists on the island and is now working at Hackensack Medical Center in New Jersey.
"The reimbursement from Medicaid and Mi Salud is abysmal and the public hospitals don't have the infrastructure to deal with an influx of patients and regulations," Dr. Alvarez said. "For the physicians to survive, they can see 20 patients in one day in the U.S., but in Puerto Rico they have to see 50."
Ricardo Rivera, Puerto Rico's point person in managing the island's Obamacare funding, denied that the objective is government-sponsored universal health care access.
"The end goal is to improve the economy," he told Fox News Latino. "And as people find jobs they will move out of the 'Mi Salud' program and into private insurance plans."
Another major concern for doctors like Alvarez and Tirada is that the Puerto Rican government has hired a third party private insurance company, Triple S, to handle claims, billing, and the ins and outs of the government's public insurance program.
Tirada said putting Obamacare money in the hands of just one private insurance company is going to put profits ahead of patients and physicians.
"The more claims that get denied, the more money the government will save and the more money the private insurer will make," Alvarez said.
But Rivera, who holds the position of executive director of the Puerto Rico Health Insurance Administration, said that he's just as concerned about smart expenditures as anyone else.
"I'm in line with the doctors," he said, adding that he currently has 16 auditing programs running through his office to make sure those under Medicaid and Mi Salud get quality services.
"I cannot just go on the word of a manage care organization, they have all the incentive in the world to lie to me," he said.
For now, Puerto Rico has the funding to continue offering public health services, but with unemployment hovering around 15 percent and with 55 percent of the population out of the labor force, the question is how will the island sustain its health care system past 2019.
"We don't know what's going to happen but we're not alone," said Rivera. "We have 50 other states asking the same questions."
Bottom line, he said, it's about striking a balance.
"We are trying to approach how can we maximize all the resources around us and we need the private sector."
(RT)  Details of a highly secretive, multi-national trade agreement long in works have been published by WikiLeaks, and critics say there will be major repercussions for much of the modern world if it's approved in this incarnation. The anti-secrecy group published on Wednesday a 95-page excerpt taken from a recent draft of the Trans-Pacific Partnership, or TPP, a NAFTA-like agreement that is expected to encompass nations representing more than 40 percent of the world's gross domestic product when it is finally approved: the United States, Japan, Mexico, Canada, Australia, Malaysia, Chile, Singapore, Peru, Vietnam, New Zealand and Brunei.
(TOWN HALL)   Bill Clinton's comments may have been the tipping point. Yesterday, the former president told an interviewer that the White House should keep its promise and honor its commitment on Obama's infamous "keep your plan" pledge. And if there's one person on planet earth whose reputation for honoring both the truth and personal commitments is – ahem – unimpeachable, it's him. Snark aside, Clinton's remarks were hugely impactful; not because he was expressing his own personal opinion, but because in doing so, he was extending a tacit permission slip to fellow Democrats. Message: It's okay to abandon Obama by starting to dismantle big parts of this law. His wife, who is widely expected to run for president, had no comment on the matter.