Police arrest EDL supporters 'to prevent breach of peace'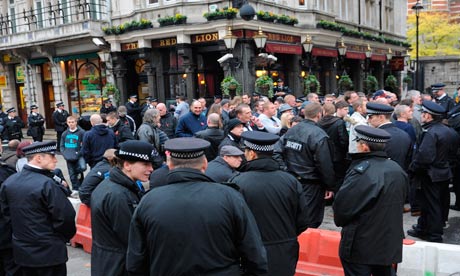 (THE GUARDIAN)   Police have arrested 156 supporters of the English Defence League in order to prevent a breach of the peace, Scotland Yard said.
It is understood the EDL supporters were planning to target Occupy LSX protesters outside St Paul's Cathedral.
The EDL followers were arrested outside the Red Lion pub, in Westminster, and taken to central London police stations.
The arrests came after Scotland Yard was accused of sending out threatening messages on the social networking site Twitter in the runup to the two-minute Remembrance Day silence on Friday.