(Kurt Hofmann)   As National Gun Rights Examiner David Codrea reported Friday, United States District Judge Alfred V. Covello upheld Connecticut's draconian "assault weapon" ban, in what gun rights advocates involved describe as "only the first battle in a multi-year legal war." Interestingly, Covello acknowledges that the law is an assault on the rights of gun owners–and he doesn't care.
The Hartford Courant reports that much of the debate revolved around whether or not the law bans firearms and magazines that are "in common use." This is significant because in the Supreme Court's District of Columbia v. Heller decision, the Washington D.C.'s outright ban on handguns was unconstitutional because such guns are "in common use" for lawful purposes.
As the Courant noted, the state denied that these guns were "in common use," and are thus without any Constitutional protection:
The Connecticut plaintiffs argued that assault weapons are commonly used, in the state and across the country, for hunting, sporting competitions and home protection. Common usage makes the weapons and large-capacity magazines subject to Second Amendment protection, the plaintiffs argued.

The state, in its defense of the law, disputed the claim of widespread usage.
Judge Covello, interestingly, admits that the state's claim that the firearms and magazines in question arenot commonly used for lawful purposes was false, but he doesn't care:
Covello, agreeing with the plaintiffs, concluded that the weapons and magazines are commonly owned and legally used in Connecticut and elsewhere. But he parted company with the plaintiffs when he wrote that the state's ownership and sales ban is justified when the government's goal of reducing violence is measured against the ban's impingement on Second Amendment rights.
It does not appear that Covello is using the argument advanced by former Obama administration "regulatory czar," and eternal "killer tomato," Cass Sunstein, who tried to claim that "in common use at the time"referred to the time the Second Amendment was ratified, rather than at the time the Constitutionality of a ban is being considered–an argument that the Heller decision had already described as "bordering on the frivolous."
Instead, Covello apparently claims to have measured the acknowledged "impingement [some might say "infringement"] on [the] Second Amendment rights" of the plaintiffs, against "the government's goal of reducing violence." Covello is evidently asking us to believe that a ban on firearms used in less than two percent of "gun crimes," according to the Congressional Research Service will do what ten years of federal "assault weapons " banning singularly failed to do.
Covello also claims that since a variety of other firearms remain legal–including handguns, which, as Covello reminds us, are described in the Heller decision as "quintessential self-defense weapon" in the longstanding view of Americans–an "assault weapons" ban is a permissible infringement on that which shall not be infringed.
It is unfortunate that in writing the Heller opinion, Justice Scalia neglected to mention that semi-automatic, detachable magazine-fed rifles with pistol grips, barrel shrouds and flash suppressors have long been considered by the American people to be the quintessential anti-tyranny weapon.
As said before, the unfortunate court ruling is just the beginning of the "long legal war" over this legislative abomination. In the meantime, Connecticut gun owners should continue to defy it. The "legal war" might, after all, escalate to the kind of war in which the quintessential "regime change rifle" is a vital piece of equipment.
(N3)   Could Florida end nearly all federal gun laws in the Sunshine State? If a new bill introduced into the statehouse passes, that may come to pass. State Representative Dane Eagle has introduced House Bill 733 into the Florida statehouse. This bill is commonly known as the Second Amendment Preservation Act. The legislation being considered in Tallahassee would forbid any state agencies from participating in the enforcement of any federal laws related to firearms. This prohibition would cover both present and future laws passed in Washington, and may provide a path for other states to follow suit.
Preventing the enforcement of federal laws on a state level is not a new idea. Founding Father James Madison, known the Father of the Constitution, supported such actions. He created the first blueprint of how such actions could take effect.
Francisco Rodriguez is the outreach director of the Tenth Amendment Center. That group strives to keep the federal government from enacting legislation beyond powers enumerated in the Constitution. Rodriguez is also active in the James Madison Institute and was elected to the board of directors for the Florida Food Policy Council.
Rodriguez is our guest on the show today. He is here to talk to us about Second Amendment Preservation Act. We will discuss the history of the bill, as well as its potential to pass into law. We will look at the possible effect of the act, and similar efforts in other states.
(GSL)   How embarrassing.  A Massachusetts low-information legislator is now appearing at the Bay State's capitol building in handcuffs to testify at hearings.
Who is this Democrat state representative and why is he in cuffs?
His name is Carlos Henriquez.
He's in cuffs following his conviction for beating the snot out of his then-girlfriend in July 2012.
Democrat inmate lawmaker Rep. Carlos Henriquez is steadfastly refusing to resign his seat, and he is doggedly holding onto his job, trying to execute it from his jail cell while he serves a 6-month jail term – for beating the snot out of that former girlfriend.
The sweet irony here is that Democrat inmate lawmaker Rep. Carlos Henriquez has a been an ardent supporter of the Coalition to Prevent Gun Violence.  We think we know why.  It's self-interest as he doesn't want people in general, and his dating pool of single ladies in particular, to have the means to defend themselves from violent perpetrators like him.
The irony is extra rich as he had the audacity to appear at a Coalition to Prevent Gun Violence event late last year, while his trial was pending following his July 2012 arrest on the domestic violence charge.
(FEDERALJACK)   U.S. Supreme Court Justice Antonin Scalia told law students at the University of Hawaii on Monday that the nation's highest court was wrong to uphold the internment of Japanese-Americans during World War II, but he wouldn't be surprised if the court issued a similar ruling during a future conflict.
Scalia was responding to a question about the court's 1944 decision in Korematsu v. United States, which upheld the convictions of Gordon Hirabayashi and Fred Korematsu for violating an order to report to an internment camp.
"Well of course Korematsu was wrong. And I think we have repudiated in a later case. But you are kidding yourself if you think the same thing will not happen again," Scalia told students and faculty during a lunchtime Q-and-A session.
Scalia cited a Latin expression meaning, "In times of war, the laws fall silent."
"That's what was going on — the panic about the war and the invasion of the Pacific and whatnot. That's what happens. It was wrong, but I would not be surprised to see it happen again, in time of war. It's no justification, but it is the reality," he said.
Avi Soifer, the law school's dean, said he believed Scalia was suggesting people always have to be vigilant and that the law alone can't be trusted to provide protection.
Soifer said it's good to hear Scalia say the Korematsu ruling was wrong, noting the justice has been among those who have reined in the power of military commissions regardless of the administration.
"We do need a court that sometimes will say there are individual or group rights that are not being adequately protected by the democratic process," Soifer said.
Scalia was appointed to the nation's highest court in 1986, making him the longest-serving justice currently on the court.
The 77-year-old spoke after teaching a class. He didn't take questions from media.
LEARN MORE ABOUT FEMA CAMPS, AND THE HISTORY OF THEIR USAGE BY WATCHING BOTH FILMS BELOW:
CAMP FEMA
CAMP FEMA 2
(FEDERALJACK)   Anti-drone activists are finding themselves in courts across the US, for protesting against the use of the deadly unmanned aircraft. Several groups are on trial separately, with one being prosecuted for blockading a drone air base. Yet there's still relative media silence about what the drones do to civilian populations, leaving the public in the dark.
(BEN SWANN)   This past Sunday evening former NSA contractor Edward Snowden sat down for an interview with German television network ARD. The interview has been intentionally blocked from the US public, with virtually no major broadcast news outlets covering this story. In addition, the video has been taken down almost immediately every time it's posted on YouTube.
In contrast, this was treated as a major political event in both print and broadcast media, in Germany, and across much of the world. In the interview, Mr. Snowden lays out a succinct case as to how these domestic surveillance programs undermines and erodes human rights and democratic freedom.
He states that his "breaking point" was "seeing Director of National Intelligence, James Clapper, directly lie under oath to Congress" denying the existence of a domestic spying programs while under questioning in March of last year. Mr. Snowden goes on to state that, "The public had a right to know about these programs. The public had a right to know that which the government is doing in its name, and that which the government is doing against the public."
It seems clear that the virtual blackout of this insightful interview is yet another deliberate attempt to obfuscate the truth from the view of the American public. The media has continually attempted to shill the official government lies about mass domestic surveillance programs, justifying them as necessary to fight the "War on Terror", while attempting to painting Mr. Snowden as a traitor.
In regards to accusations that he is a traitor or a foreign agent, he states, " If I am traitor, who did I betray? I gave all my information to the American public, to American journalists who are reporting on American issues. If they see that as treason, I think people really need to consider who they think they're working for. The public is supposed to be their boss, not their enemy. Beyond that as far as my personal safety, Ill never be fully safe until these systems have changed."
The attempt to bury this interview by the government/corporate symbiosis has extremely dark implications. Additionally, the fact that government officials have openly talked about assassinating Mr. Snowden cannot be taken lightly, and Mr. Snowden obviously takes these threats to his life very seriously. Sadly, the reality of the US government assassinating an American citizen is not beyond the realm of possibility in the age we live in.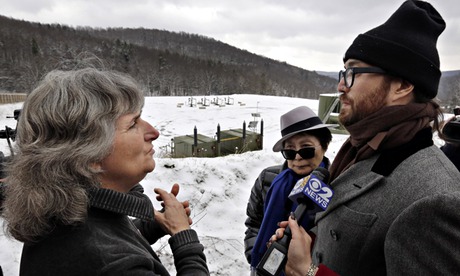 (THE GUARDIAN)   Vera Scroggins, an outspoken opponent of fracking, is legally barred from the new county hospital. Also off-limits, unless Scroggins wants to risk fines and arrest, are the Chinese restaurant where she takes her grandchildren, the supermarkets and drug stores where she shops, the animal shelter where she adopted her Yorkshire terrier, bowling alley, recycling center, golf club, and lake shore.
In total, 312.5 sq miles are no-go areas for Scroggins under a sweeping court order granted by a local judge that bars her from any properties owned or leased by one of the biggest drillers in the Pennsylvania natural gas rush, Cabot Oil & Gas Corporation.
"They might as well have put an ankle bracelet on me with a GPS on it and be able to track me wherever I go," Scroggins said. "I feel like I am some kind of a prisoner, that my rights have been curtailed, have been restricted."
READ THE FULL ARTICLE WITH VIDEO HERE
(J0hnn13 N4rc03)   This was personally disturbing as a fan of the sitcom Park and Recreation. Season 6, Episode 8, Fluoride is about how Leslie Knope, lovable city council woman, out of nowhere wants to put fluoride in the city's water supply.
When the bureaucratic and typically obnoxious fellow councilors oppose her they do mention several points. An elder man states "Fluoride is used by the Communists to control our minds" which I am sure was followed by laughter in most households watching the episode. Leslie immediately replies "No, it's not". Another councilman asks "Fluoride can control minds? Like you can use it to make ladies do stuff?" Then Leslie follows to say "How am I the one that is getting booted off of this city council?! Ok, Fluoride is safe. It is good for you, and almost every town in America uses it."
This scene is framed to make the men in the room who do not want it or know nothing about it seem ridiculous, where Leslie is a lovable, smart, inspiring female character who you want to support whatever she is supporting because she is the underdog you hope gets her way.
After she makes her "point" the biggest dirt bag councilman who is her nemesis in the series replies "Alright, you got me. I don't want fluoride in the water because I'm a dentist and I like cavities." Which is OBSURD because practically every dentist in the US swears by fluoride so that you can get dental fluorosis (pitting in the enamel of the teeth which leads to cavities!).
Knope replies "Fluoride in the water is a no brainer. Can't you just let me have this one?" He proposes a bill to never add anything to the water supply ever. (which sounds great to most people who are in the know, but coming from this character, seems off putting).
So it goes on. The dentist councilman Jamm goes on a talk show and says "Councilwoman Lesie Knope wants to put Fluoride, which is a chemical, in to your drinking water. You know what else is a chemical? Strychnine and cyanide." Again, sounds like a good argument if you know the true effects of fluoride injection. It becomes ludicrous when the talk show host follows with "…and dirt, and rust, and even broken glass." Dentist: "Exactly. You definitely understand what chemicals are." (thus disproving his previous statement to the viewer) "I would suggest if you want to contact the psychopath that wants to turn your kids into bad at math, communist, fluoride zombies, well, just call the number at the bottom of your screen.
Oh, it gets better.
Immediately she gets a call "Hello? Stop right there. You know what? Fluoride protects your teeth and is perfectly healthy for you. Well if Jam says that then he is a lying idiot and if you believe it, then so are you." (hangs up phone).
Next phone call "Fluoride is going into the water moron". "…all it does is prevent cavities" To her mother, "God, I expected more from you."
In comes likable, funny Aziz Ansari as Tom Haverford who proposes re branding fluoride because of the negative publicity. That's right, tricking the public to approve a vote to put fluoride in the water by saying it's not fluoride. She responds "I don't think we need to sex up fluoride. It's pretty sexy already." (wow) Finally he convinces her to allow him to make the proposition.
Let's skip forward to the city council meeting. Jam starts off "Alright so in conclusion, fluoride = chemical, tiny genitals, misinformation, panic, death, Jenny McCarthy." (walks off stage).
Knope walks on "Well I don't know councilman. That was a little dry. What do you say we have some fun, huh? Check this." (Top starts video on screen of man sitting on park bench drinking a glass of water) Man:"Plain water, yuck! I'm bored." (Tom enters scene with glass of water… and bow tie of course) "Then try this!" (Man turns into what appears to be a much younger and in shape man wearing only briefs while crunk music plays) "What just happened" Tom: "That water contains #TDAZZLE which makes your teeth stronger and starts a party in your mouth" (zooms into young mans perfect, white teeth that turn into sexy dancing girls). The crowd seems to love it.
Leslie says "What?! Fluoride's boring guys! Boo! Welcome to #TDAZZLE. It's not a chemical. It's an aquatic based social media oral experience". Tom: "Everyone who tweets #TDAZZLE in the next hour will be entered to win an exciting plain blue T-Shirt." (Everyone in room picks up phone).
Next scene, Leslie opens "Our poling shows 72% are in favor of adding #TDAZZLE to their water. Effectively killing Councilman Jamm's, so called, "Clean Water Bill". Eat it Jamm." Jamm: "Apology accepted. You know I have actually come around to your way of thinking on this. My only thought is why stop here? Ladies and gentlemen Sweetums president Jessica Wicks" (Sweetums is the series' "evil corporation" responsible for the towns people's obesity and the toxic waste that effects the food supply in town.)
Jessica: "Look, we all love #TDAZZLE but we can do more to improve our drinking supply. Sweetums is excited to propose an alternative to boring municipal water. We call it Drink-Ems".
Ok wait… this is all too familiar.
Jamm: "Sweetums is prepared to take over Pawnee's water. This is going to save this town buku bucks" (at this point Drink-Ems T-Shirt wearing Sweetums employees start passing out different colored liquids in sports drink bottles."
Knope: "This water is filled with sugar. There is absolutely no way we are doing this."
Jamm: "Too late. We are going to fill the whole reservoir with this stuff."
Of course Knope knocks Sweetums. And her husband (who works for them loses his job) So she then needs to publicly apologize. Then he doesn't want her to and he wants her to stick to her guns (playing into the emotions of the viewer to further support the agenda of lovable Knope). So she goes into this detailed scientific break down of how great Drink-Ems is when Tom comes up (with crunk music playing of course) "I don't know about Y'all, but Drink-Ems seems pretty boring. Not like H2Floww" "Think of HsFloww as an app for your teeth. The more you take in, the more sparkle points you get. Get enough sparkle points and you're on your way to your first Aqua Badge. Collect enough Aqua Badges and we'll welcome you to the H2Floww Platinum Club." (Holds up black card, and crowd oohs & aahhhs).
Conclusion…
Knope: "Hey! Drink-Ems is dead. As of tomorrow every Pawnee resident will have H2Floww in their drinking water."
Her husband, Adam Scott as Ben Wyatt: "That's great news… H2Floww is fluoride right?"
Knope: "I think so… I'll double check with Tom but I am like 95% sure."
The moral of the story, Ben Wyatt won the blue T-Shirt.
LEARN MORE ABOUT FLUORIDE BELOW:
10 Facts About Fluoride You Need to Know
Attorney Michael Connett debate two advocates of fluoridation
(FEDERALJACK)   Legendary Russell Means harshly criticizes the Bureau of Indian Affairs and Indian leadership of reservations. RIP Russell Means November 10, 1939 — October 22, 2012.
(KMOV)   An 11-year-old Troy girl who made the cover of a local newspaper for her cupcake-making abilities is being forced to shut down her business.
The Madison County Health Department told the family of Chloe Stirling she can no longer sell cupcakes after reading about her in Sunday's Belleville News-Democrat.
The Triad Middle School sixth-grader started her own cake and cupcake business two years ago and has mostly sold to family and friends for special events.
Click here to see some of Chloe's creations
But because she sells them, health department spokesperson Amy Yeager said she needs a permit. She said by not having a permit Stirling violates the county's food ordinance and Illinois State Food Sanitation Code.
The health department says she also needs to get a licensed kitchen or create another kitchen in her family's home.