Memo to TSA: Treat 'Em Like Terrorists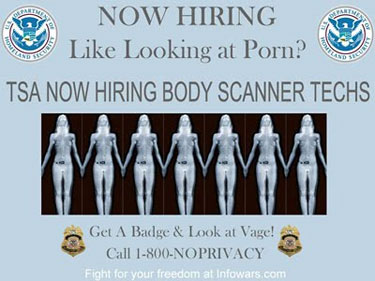 (Christopher Manion)   It is so bizarre that you won't believe it, but the tactics of the TSA agents who terrorize Americans traveling by air are virtually synonymous with the deliberately inhuman and debasing standard operating procedure of CIA and MI5 interrogators of terrorist suspects in war zones.
"The British military has been training interrogators in techniques that include threats, sensory deprivation and enforced nakedness in an apparent breach of the Geneva conventions, the Guardian has discovered.

Training materials drawn up secretly in recent years tell interrogators they should aim to provoke humiliation, insecurity, disorientation, exhaustion, anxiety and fear in the prisoners they are questioning, and suggest ways in which this can be achieved."
OK, class, let's check the box: Threats, check: Do you want to step in here and be groped by my perverted supervisor? Humiliation, check: Take off your shoes, belt, and bra in front of everyone. Insecurity, check: Will I make my flight?  Disorientation, check: Which line will they push me into? Where are my children? Exhaustion, check: Two-hour waits, standing in your stocking feet. Anxiety, check: Did I forget to take out my nail file? Fear, yes: the preening thug approaches you: Will he understand "Constitution"? Will she grope with a grimly slitted eye likeFairy Hardcastle?
And can you believe it? "Enforced Nakedness!" Check!
Can you believe it??!! In the UK, these methods are being investigated as breaches of international law when used on terrorists!
"The purpose of terror is to terrorize." — V. I. Lenin