London Mayor Boris Johnson calls for police cuts to be scrapped after riots
(GUARDIAN)   The London mayor, Boris Johnson, has urged David Cameron to abandon the government's plans for substantial police cuts in the wake of four nights of rioting across England.
In what may become one of the most significant policy differences between the Conservative mayor and his party leader, Johnson said the government should scrap plans for cutting police budgets, not just in London but across the country as a whole.
His comments will delight Labour, who have made opposition to the police cuts one of their key campaigning themes.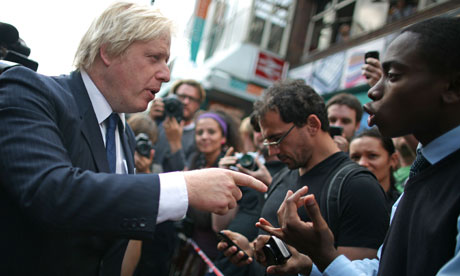 The mayor made his comments in an interview on BBC Radio 4's Today programme, in which he also said the initial police response to the riots should have been more robust. By allowing the disturbances to escalate, the authorities scored a "massive own goal", he said.
Johnson said he had always been sceptical about the case for police cuts, but recent events had made them even harder to defend.
"If you ask me whether I think there is a case for cutting police budgets in the light of these event, then my answer to that would be no. I think that case was always pretty frail, and it has been substantially weakened," he said.
"This is not a time to think about making substantial cuts in police numbers … I'm looking at the country as a whole."
Johnson welcomed the news that the police operation in London on Tuesday night had kept trouble to a minimum, but added that this should have happened sooner.
He said: "When you look at what happened on Saturday night, and when you look at all the succeeding events, you have got to ask yourself 'could the police have gone in harder, could there have been a more significant display of intolerance by us, by society, by the police of what was going on?'"
However, the mayor also offered support for Cameron on another issue, acknowledging that, in the past, he had been sceptical about the claims Cameron had made in opposition about Britain being "broken".
The riots suggested that part of this analysis was correct, Johnson said, adding: "This is a massive wake up call for everyone. There are aspects of our society that have patently gone off the rails."
There was an "absence of boundaries" and an "absence of respect", he said. He added: "We need to think about aways of imposing discipline on [young people]" and suggested that a national citizen service – which is being piloted by the government – might be one solution.
On Wednesday morning, Ed Miliband demanded government help for the individuals and communities affected by the violence.
While backing the need for a strong police response, the Labour leader started to focus attention on the work that will need to be done to repair the damage to shops and homes.
"We are calling from a rapid response from the government to help those communities hit hardest by these riots to get back on their feet as quickly as possible," Miliband said.
"As well as ensuring public safety, we need immediate help for those people who have lost homes and businesses. As we see in natural disasters like floods, we need focused support so that these victims of the violence get the support they need."
The Labour leader said that "means the government working with the insurance industry to put in place fast track procedures with immediate effect so that individuals and businesses making claims do not have to wait for the money they need to start putting things right".
He added: "It also means providing targeted financial support for the most affected councils. They must be given access to funds from central government to address the damage to public spaces and infrastructure, and to provide the immediate support for those innocent victims of this violence who have seen their homes and small businesses damaged or destroyed."
Until Tuesday night, Labour had been largely supportive of the government's approach to the riots. Although Ken Livingstone suggested government cuts were partly responsible for the violence, Miliband and other Labour frontbenchers insisted – as government ministers have done – that there was no excuse for the disorder.
But the cross-party consensus started to break down when Harriet Harman, Labour's deputy leader, became involved in an acrimonious exchange with the education secretary, Michael Gove, on Newsnight about the causes of the rioting.
Although she said there was no justification for violence, Harman also suggested that government policies such as the trebling of tuition fees and the abolition of the education maintenance allowance were relevant.
"I don't agree with Cameron when he says it is simple. It is not. It is very complex," she said.
"But there is a sense that young people feel they are not being listened to.
"That is not to justify violence. But when you've got the trebling of tuition fees, they [the government] should think again about that. When you've got the EMA being taken away, when you've got jobs being cut and youth unemployment rising and they are shutting the job centre in Camberwell … well, you should think again about that, because this is going to cost money."
But Gove said it was "fatuous" to suggest that arson attacks had anything to do with the changes to EMA.
"I am appalled that Harriet can speak out of both sides of her mouth at once," he said. "On one level, Harriet says it is vitally important that we don't engage in partisan point scoring and that we concentrate on restoring order on our streets.
"Quite right, too … but at the same time she is somehow linking these events to tuition fees, the EMA, job centres."
http://www.guardian.co.uk/uk/2011/aug/10/boris-johnson-police-cuts-scrapped-riots?utm_medium=twitter&utm_source=twitterfeed
2 Responses to London Mayor Boris Johnson calls for police cuts to be scrapped after riots