A village in China just bought its own air fleet.
From Xinhua:
A VILLAGE in east China's Jiangsu Province has announced plans to buy 20 aircrafts for pilot training and tourism, after the government said it would open low-altitude airspace to private planes.
Huaxi, the richest village in China, said it would have its own fleet of aircraft in the next five years, with the aim of establishing a pilot training base.
What is Huaxi? This amazing 8-minute video will help clear that right up. It's a village where everyone has a huge luxurious house, a luxury car (Beemers, Benzs, etc.), free cooking oil, clothes, healthcare, etc, and all they have to do is work 7 days a week for the village industrial operations, milling steel or some such industry.
Oh, and you can never leave. If you do, you lose everything. But just to make it easier to stay, the city has built replicas of the Eiffel Tour, the Sydney Opera House, and the Arc de Triumf to bring the world close to home.
http://www.youtube.com/watch?v=9SHM21CMvso
http://www.businessinsider.com/huaxi-air-fleet-2010-11
(Associated Press)
JINZHOU, China — The world's newest Nobel Peace Prize winner remained unreachable in a Chinese prison Saturday, while his wife's mobile phone was cut off and the authoritarian government continued to censor reports about democracy campaigner Liu Xiaobo's honor.
Police kept reporters away from the prison where Liu is serving an 11-year sentence for subversion, and his lawyer said that Liu's wife — who had been hoping to visit him Saturday and tell him the news of the award — has "disappeared" and he is worried she may be in police custody.
Chinese authorities, who called Liu a criminal shortly after his award Friday and said his winning "desecrates the prize," sank Saturday into official silence.
Only an editorial in the state-run Global Times newspaper spoke out Saturday, saying in English, "Obviously, the Nobel Peace Prize this year is meant to irritate China, but it will not succeed. On the contrary, the committee disgraced itself."
The paper's Chinese-language edition called the award "an arrogant showcase of Western ideology" and said it disrespected the Chinese people.
But one Chinese newspaper cartoonist, Kuang Biao, posted an image on his blog Friday of a Nobel prize medal behind bars.
In naming Liu, the Norwegian-based Nobel committee honored his more than two decades of advocacy for human rights and peaceful democratic change — from the Tiananmen Square demonstrations in 1989 to a manifesto for political reform that he co-authored in 2008 and which led to his latest jail term.
President Barack Obama, last year's peace prize winner, called for Liu's immediate release.
'We are all worried'
But there was still no word from the winner himself. The mobile phone of his wife, Liu Xia, was turned off Saturday as she was expected to be en route with police to the prison to meet her husband.
"She's disappeared. We're all worried about them," Liu's lawyer, Shang Baojun, told The Associated Press on Saturday.
He said even Liu Xia's mother had been unable to reach her.
Liu's wife's freedom of movement had been shrinking since the eve of the Nobel announcement when, she said, police came to her apartment to try to get her out of Beijing, offering her a prison visit with Liu.
She wanted to stay for the announcement and planned to hold an impromptu news conference with reporters. But police would not let her leave the apartment and on Friday night, she said she was negotiating terms to visit Liu on Saturday and tell him the news.
Police often force political critics, religious dissenters and sometimes their family members to leave Beijing ahead of sensitive anniversaries, often putting them up in guesthouses and keeping them out of the way for days and weeks.
Beth Schwanke with the Washington-based Freedom Now, an organization that serves as Liu's international counsel, said, "We're very concerned that the government might use this as a pretext for detaining her."
Liu's wife has said she hopes to go to Norway to collect the Nobel medal and its prize money of 10 million Swedish kronor (about $1.5 million), if he cannot.
Two years into an 11-year jail term at the prison 300 miles from Beijing, the slight, 54-year-old literary critic was not expected to find out about the award until the meeting with his wife.
Release unlikely
Shang said it was not likely that winning the prize would have any big effect on Liu's prison sentence.
"Unless (President) Hu Jintao signs some sort of special order … but there's no precedent for that," the lawyer said.
In past years, China would release certain dissidents after international pressure, but not because they won major awards.
Liu is the first peace prize winner chosen while serving a criminal prison sentence, although several laureates, including Myanmar democracy leader Aung San Suu Kyi (1991) and German pacifist Carl von Ossietzky (1935) were in custody without a legal trial.
Still others, like Soviet dissident Andrei Sakharov (1975) and Polish Solidarity leader Lech Walesa (1983), were prevented by their governments from going to Norway to accept the prize.
The government arrested Liu in December 2008, hours before he released a document named Charter 08 that called for greater freedoms and for the Communist Party to give way to gradual, democratic change.
In announcing the peace prize Friday, the Nobel committee issued a challenge to China to live up to its responsibilities as the world's second-largest economy and a burgeoning diplomatic and military power.
Liu had been virtually unknown among ordinary Chinese. University students in Beijing were wrestling Friday night with a mix of pride and suspicion over the award (…..)
Link – http://www.msnbc.msn.com/id/39588135/ns/world_news-asiapacific/
(PRISON PLANET)   Billionaire globalist George Soros told the Financial Times during an interview that China will supplant the United States as the leader of the new world order and that America should not resist the country's decline as the dollar weakens, living standards drop, and a new global currency is introduced.
Asked what Obama should discuss when he visits China next month, Soros stated, "This would be the time because I think you really need to bring China into the creation of a new world order, financial world order," adding that China was a reluctant member of the IMF who didn't make enough of a contribution.
"I think you need a new world order that China has to be part of the process of creating it and they have to buy in, they have to own it in the same way as the United States owns…the current order," said Soros, adding that the G20 was a move in this direction.
Soros said that there was a flight from currencies across the board, and that this is why the price of commodities, notably gold and oil, were generally rising. He also stated that an orderly decline of the dollar was "desirable" and that the entire system needed to be reconstituted towards a global currency.
"You need a new currency system and actually the Special Drawing Rights do give you the makings of a system and I think it's ill-considered on the part of the United States to resist the wider use of Special Drawing Rights, they could be very useful now when you have a global shortfall of demand, you could actually internationally create currency through Special Drawing Rights," said Soros, explaining that this was already in process after the IMF injected an allocation of Special Drawing Rights (SDRs) equivalent to $250 billion into the global economy.
Soros also stated that richer countries were already transferring wealth to poorer countries via SDR's, with the IMF paying for the half per cent transaction cost.
Soros said the world would have to go through a "painful adjustment" following the decline of the dollar and the introduction of a global currency. Reading between the lines, he essentially threatened to kill the dollar completely if the United States did not get on board with the global currency.
Soros predicted that China would become the new engine of the global economy, replacing the U.S., and that this would slow economic growth and reduce living standards. Soros characterized the United States as a drag on the global economy because of the declining dollar.
Watch the video interview below.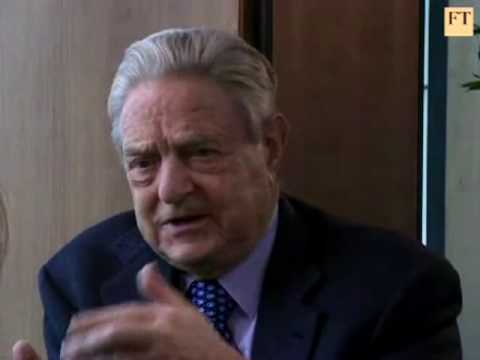 http://www.youtube.com/watch?v=TOjckJWqb0A&feature=player_embedded
(TIMES ONLINE)   Family planning authorities have detained hundreds of people against their will in a campaign to sterilise 10,000 men and women suspected of trying to violate China's strict birth control policies.
About 1,300 people were being held in cramped and poor conditions in offices throughout the small town of Puning in southern Guangdong Province and are forced to listen to "lectures" on state rules limiting the size of families, the Nanfang Countryside Daily said.
In the years after China launched its strict "one couple, one child" family planning policy in the late 1970s, abuses such as forced later-term abortions, sterilisations and even the killing of newborn babies were widely reported.
But such practices have fallen sharply in recent years as the policy has become quite widely accepted and exceptions have been introduced.
However, officials in Puning launched a 20-day campaign on April 7 since so many couples have left the area in search of factory jobs and have found it easier to have children outside the government-set quotas.
The county intends to sterilise 9,559 women or their husbands who are suspected of planning to have a second or third child. So far about half that number have agreed to comply, the newspaper said.
Officials have detained the elderly parents of those who do not submit voluntarily to the surgery or who try to evade the authorities to force them to comply, the newspaper said. It reported that on April 10 some 100 people, mostly elderly, were seen inside a damp 200 square metre building at a township family planning centre.
The newspaper said: "There were some mats on the floor, but the room was too small for all people to lie down and sleep, so the young ones had to stand or squat. Due to the lack of quilts, many cuddled up to fight the cold."
Among those being held was the 64-year-old father of Huang Ruifeng, who already has three daughters. Mr Huang said: "Several days ago, a village official called me and asked me or my wife to return for the surgery. Otherwise they would take away my father."
Rules in Puning, as in most rural areas of China, allow farmers to have a second child if the first is a daughter. After that couples are supposed to stop.
An official at the Puning Population and Family Planning Bureau, who declined to be identified, told the Global Times: "It's not uncommon for family planning authorities to adopt some tough tactics."
Family planning officials are appraised on their success in enforcing birth control policies and sometimes employ such extreme methods if they fail to meet state-set targets. Authorities in Puning have already adopted a tough stance against couples who flout the rules.
They and their relatives who apply for permits to build a house are rejected. They are also being denied a local cash bonus. Illegal children are denied residency registration, a penalty that means they are excluded from a place in school.
One official told the newspaper that an investigation would be launched to establish whether authorities in Puning had exceeded their remit. A state-level regulation stipulates that couples who violate the family planning policy must not be punished without proper authorisation.
http://www.timesonline.co.uk/tol/news/world/asia/article7099417.ece#cid=OTC-RSS&attr=797093
(PRESS TV)  
China suspends military exchanges with the US and threatens to impose sanctions on US arms companies over a Washington decision to sell weapons to Taiwan.
China's Defense Ministry suspended military exchange visits with the US, saying the suspension was "in consideration of the serious harm and impacts [of the 6.4-billion-dollar US-Taiwan arms deal] on Sino-US military relations."
Chinese Foreign Ministry also threatened to impose sanctions on US firms that sell weapons to Taiwan amid straining relations between Washington and Beijing.
"China will also impose corresponding sanctions on US companies that engage in weapons sales to Taiwan," the ministry said on Saturday.
"The United States must be responsible for the serious repercussions if it does not immediately reverse the mistaken decision to sell Taiwan weapons," Chinese deputy Foreign Minister He Yafei told the US ambassador to China, Jon Huntsman.
The arms sale includes Black Hawk helicopters, Patriot Advanced Capability-3 missiles, mine hunter ships and information technology.
US Congress has 30 days to comment before the plan goes forward. Lawmakers traditionally have supported such sales.
Saturday's measure is the second such suspension, since the former Bush administration in 2008 announced a multibillion-dollar arms sale to Taiwan.
Relations between the two countries have been strained as President Barack Obama plans to meet with the Dalai Lama, the exiled spiritual leader of Tibet, later this year.
More complications could affect President Hu Jintao's expected visit to the US this year, as well as talks on human rights that Obama and Hu had agreed to continue, a Press TV correspondent reported.
http://www.presstv.ir/detail.aspx?id=117442&sectionid=351020404
(FINANCIAL TIMES)    Chinese regulators have told some banks temporarily to halt lending amid growing fears of asset bubbles and inflation.
The renewed efforts to rein in credit growth after a burst of frantic lending activityby Chinese banks that have raised concerns about overheating in the Chinese economy.
CDC Director-General Steve Kuo said the DOH would not alter its H1N1 immunization plan, but officials were sorry they hadn't been able to help the boy
Yang Yanming, securities trading executive is executed in China for embezzlement of 100 million yuan. Nearly 65 million yuan ($9.52 million) remains unaccounted for as Yang refuses reveal where the money went …
Dec. 9 – BusinessMonday.com | By Dennis Lee, Staff Writer
Yang Yanming, 51, was executed yesterday in China for embezzlement. Yang Yanming is the former general manager of  the securities trading department at China Great Wall Trust and Investment Corp. from 1997 to 2003, the corporation later became China Galaxy Securities Co., Ltd.
According to the Beijing Evening News, Yang Yanming is the first person from the China securities sector to be executed.  Yang claims that the money he misappropriated had been used to pay bribes to public officials. He refused, however, to disclose their identities. Yang's attorney, Qian Lieyang, said that his client's execution would guarantee that those who took the money would go unpunished.
Prior to the execution, as he confronted his judges  for the last time, he said, "Someone must take responsibility. If  I hadn't attempted to commit suicide, it might not have been discovered." He  sat quietly while listening to the presiding judge read the entire verdict.
"Preserve your moral integrity and don't set too much store by business results." Yang told a newspaper just before his execution.
Yang's world began to unravel when he attempted  suicide on  April 23, 2004. Having cut his wrists, Yang turned on the kitchen gas which subsequently exploded. He survived the ensuing fire, however, his suicide attempt prompted company officals to perform a financial audit.  Auditors discovered  a shortage of  approximately 100 million yuan from more than seventy sales accounts.  Of this amount, the location of  65 million yuan  ($9.52 million) is still unkown.
Yang  first death verdict was handed down in December 2005 by the Beijing No. 1 Intermediate People's Court. The appeal to the Beijing Higher People's Court sent the case  back to the first court to be heard again in May of 2007. Upon a second sentence of death in July 2008, Yang's final appeal to the higher court was refused and sentence was carried out.
On March 24, 2009, Amnesty International  issued its annual report.  It states that China leads the world in the numbers of executions.  According to the report, China executed over 70% of the worldwide total of all people executed in the year  2008.
http://businessmonday.com/index.php?option=com_content&view=article&id=352:china-executes-securities-trading-executive&catid=16:asia&Itemid=33
(TELEGRAPH)   Beijing has only confirmed that it raised and scrapped the Poseidon in 1972 after its fate was reported by The Daily Telegraph shortly after the anniversary of the sinking on June 9.China admits secretly salvaging British submarine HMS PosBeijing has only confirmed that it raised and scrapped the Poseidon in 1972 after its fate was reported by The Daily Telegraph shortly after the anniversary of the sinking on June 9.
But China's claim that the hull of the vessel contained no human remains, identity tags, watches, rings or other personal items has provoked anger among relatives of the men who died.
"It was a shock to discover the Chinese authorities' claims and I'm deeply upset and disappointed," said Penny Lewis, whose grandfather, Able Seaman Frederick Tolliday, died in the accident.
"And that is not only for myself, but especially on behalf of my father and grandmother who were both still alive in 1972 when the Poseidon was recovered," she said.
"The Royal Navy has always maintained that a large number of the crew never escaped from the vessel, including my grandfather, but this conflicts with the Chinese saying no remains or personal effects were discovered. Who is telling the truth?" said Mrs Lewis, 51, from Stevenage, Herts.
In a statement, the Ministry of Defence said it "takes very seriously the issue of the sovereignty of United Kingdom maritime graves."
Chinese authorities informed the ministry that "due to the long time that has passed and the lack of effective record keeping during that turbulent period of Chinese history, they have no more information that that which appears on the Shanghai Salvage Bureau's web site."
It was this brief reference to the raising of the Poseidon during the Cultural Revolution that caught the attention of American maritime historian Steven Schwankert. Subsequent inquiries led to evidence that the Chinese salvaged the vessel without informing London in order to test the skills of their naval special forces and newly formed underwater recovery units, as well as to clear a fishing area of a hazard that had been damaging fishermen's nets for four decades.
And while it is accepted that little more can be done to protest the raising of the vessel, there are hopes that China might be encouraged to conduct a new investigation into the remains of the crew, which experts believe would have been recovered.
After all, they point out, the CSS Hunley, one of the first submarines ever built and sunk in 1864 during the American Civil War, contained eight skeletons that had been almost perfectly preserved when it was recovered from Charleston harbour in April 2004.
"There is no doubt in my mind that there would have been human remains on board, and that means that either the people who raised the submarine lied to the Chinese government, or they are lying to us," said David Clarke, whose grandfather survived the sinking.
Petty Officer Reginald Clarke spent more than three hours inside the submarine before managing to escape using the then-new Davis Submerged Escape Apparatus, a rudimentary underwater breathing system designed to lift sailors to the surface. Eight men managed to leave a bow section compartment, although two failed to reach the surface and another died later.
"The answer the families have been given from the Chinese is completely unsatisfactory and not at all believeable," Mr Clarke added.
The question of the fate of the crew of the Poseidon was raised in Parliament in June by Dr Julian Lewis, the shadow defence minister, who believes that an opportunity still remains for both the families and the Chinese naval authorities to benefit from the situation.
"It is understandable that the Chinese authorities are sensitive about any remains that may have been discovered, but I do hope that they will check their records a little more thoroughly," he said.
"This is because they have a real opportunity to do something positive, by reaching out from their modern navy to the descendants of sailors in our inter-war navy, to strengthen bonds and perhaps even invite the relatives to an appropriate ceremony in Weihai to rebury any remains they have found," he added.
http://www.telegraph.co.uk/news/worldnews/asia/china/6561998/China-admits-secretly-salvaging-British-submarine-HMS-Poseidon.html