June 15, 2014
Anderson Cooper
C/O CNN
10 Columbus Circle
New York, New York 10019
Dear Mr. Cooper,
Seventeen months have passed since you featured me on your AC 360° program on consecutive evenings to call attention to my commentary and analysis of the December 14, 2012 Sandy Hook Elementary School massacre in Newtown, Connecticut. As you may recall, in the prelude to those January 11th and 14th 2013 broadcasts you sent a production crew to my place of employment that proceeded to pursue staff and administrators on my whereabouts.
Your staff then repeatedly telephoned my residence, later filming in front of my home and disclosing my address to a national audience without my knowledge or consent. This behavior jeopardized my family's safety and peace of mind, and included a flurry of threatening and abusive communications directed at me. Further, some observers presumed that CNN and other national news media sought to create sufficient controversy that would lead to the termination of my employment. On the other hand, I understand how you may have perceived this as an act of due journalistic diligence rather than coercion.
Further, if at the time ample proof existed that the Sandy Hook massacre was genuine I think you may have been at least partially justified in such activity. Yet in the time since little evidence has emerged to uphold the notion that the event took place as it had been reported by CNN and other news outlets. In fact, the opinion of many independent experts and a wealth of data point to highly questionable elements of the Sandy Hook narrative that require rigorous interrogation through the intrepid investigative reportage of journalists such as you.
Anderson (if I may), that's why I challenge you to join me on a reportorial quest to Newtown and Sandy Hook in order to revisit and rigorously question the painful affair that still rests so uneasily on the public conscience—one that is called up in memory with each report of another school shooting. Together let us ferret out and present the relevant information, interview the necessary parties, and get to the bottom of what transpired so that we can put the conspiracy theories to rest!
Anderson (again, if I may), this could very well be a landmark event in investigative journalism. If after a thorough investigation we prove that the event in fact took place as CNN and other major media reported, I will concede that you were in fact correct and seriously consider resigning my post in academe.
On the other hand, if we find holes in the official narrative this may in fact be a scandal requiring journalistic performance on par with the paragon set by Bob Woodward and Carl Bernstein over 40 years ago. It will call for—indeed require—the public service of news professionals like you to find out what really happened and bring the culprits to justice! Anderson, at the end of the day it's just like you say each evening: we truly need to "keep them honest."
Yet there are some who say that CNN and, I'm sorry to say, even you may have been in on what they call a "hoax." These suspicious minds say that some of your reportage from Newtown in the wake of the shooting was "greenscreened." Others point to the time you spent in the Central Intelligence Agency and subsequent involvement in student and activist groups of several foreign countries. Still others bring up CNN's sometime questionable coverage of major historical events, such as the Persian Gulf and Iraq Wars.
I say "Hooey!" There are many fine young men from extraordinary wealth and privilege yet limited experience or career prospects who serve in our national intelligence services. These include the nation's 41st president, George H. W. Bush, in addition to littérateurs such as Cord Meyer. In fact, for over fifty years some of our nation's finest journalists and political leaders have either served overtly with or maintained ties to the intelligence community. Anderson, both you and I know that serving your country is nothing to be ashamed of.
I think you'll agree that it's time to put these Sandy Hook "truthers" to rest for good, thereby allowing the Sandy Hook victims' families to find comfort in the millions of dollars in donations they have received from sincere and goodhearted Americans.
Anderson, let's reexamine Sandy Hook together to confirm our own professional integrity, while at the same time striking a potential blow at corruption and deceit. Our conscience requires it. Our nation demands it. Won't you join me?
Yours,
(signed)
James F. Tracy
SENT USPS CERTIFIED MAIL 7013 2250 0002 2334 3915
SEE ALSO:
Down The Rabbit Hole w/ Popeye (01-13-2013) Debunking The MSM Attack on Professor James Tracy
Down The Rabbit Hole w/ Popeye (05-07-2013) Prof. James Tracy: Sandy Hook, Boston, Logical Fallacies & More
Reaction to FAU professor's Newtown conspiracy is misguided and misinformed
School Safety Expert Threatened for Questioning Sandy Hook
(FEDERALJACK)   Agriculture industry trade groups are defending themselves in courts across the country from journalists and activists who believe their First Amendment rights are being violated. Animal rights activists, environmentalists and journalists who make secret video recordings to expose cases of animal cruelty on farms face the possibility of criminal prosecution due to restrictive laws passed with the support of big agriculture.
(William Norman Grigg)   Jerad and Amanda Miller, who were banished from Bunkerville by supporters of Cliven Bundy, had worked as informants for Nevada law enforcement agencies. After the Millers murdered three people — Las Vegas Metro Officers Alyn Beck and Igor Soldo, and Joseph Wilcox, an armed citizen who heroically tried to stop their rampage — their former handlers claimed that they were unaware of the couple's "anti-police sentiments." That claim is difficult to credit, given that Jerad Miller had a lengthy criminal record, and the fact that the couple had made itself very prominent in protests associated with the Occupy Wall Street movement.
Jerad Miller, who was mired in the probation system because of narcotics convictions, was precisely the kind of person whose vulnerabilities make him valuable as an informant and provocateur.
The Millers were among many hundreds of people who traveled to Bunkerville, Nevada to support rancher Cliven Bundy in his confrontation with the BLM. They may well have been the only volunteers who were asked to leave because of concerns regarding what was described as their "aggressive nature and volatility." During their brief visit, however, Jerad was interviewed by the local NBC affiliate, which meant that he was depicted as representative of the people who had rallied to the Bundy family's cause.
Predictably, following the couple's subsequent killing spree critics of Cliven Bundy claimed that the rancher, his supporters, and the entire "insurrectionist right" shared collective responsibility for that crime. Honest people who aren't imprisoned in collectivist ideology would recognize that rather than being radicalized by so-called anti-government extremists, Jerad Miller is more properly seen as a living example of "blowback" in the government's war on drugs.
(FEDERALJACK)   In this stunning but little-known speech from 2007, Gen. Wesley Clark claims America underwent a "policy coup" at the time of the 9/11 attacks. In this video, he reveals that, right after 9/11, he was privy to information contained in a classified memo: US plans to attack and remove governments in seven countries over five years: Iraq, Syria, Lebanon, Libya, Somalia, Sudan and Iran.
LEARN MORE: http://www.federaljack.com/war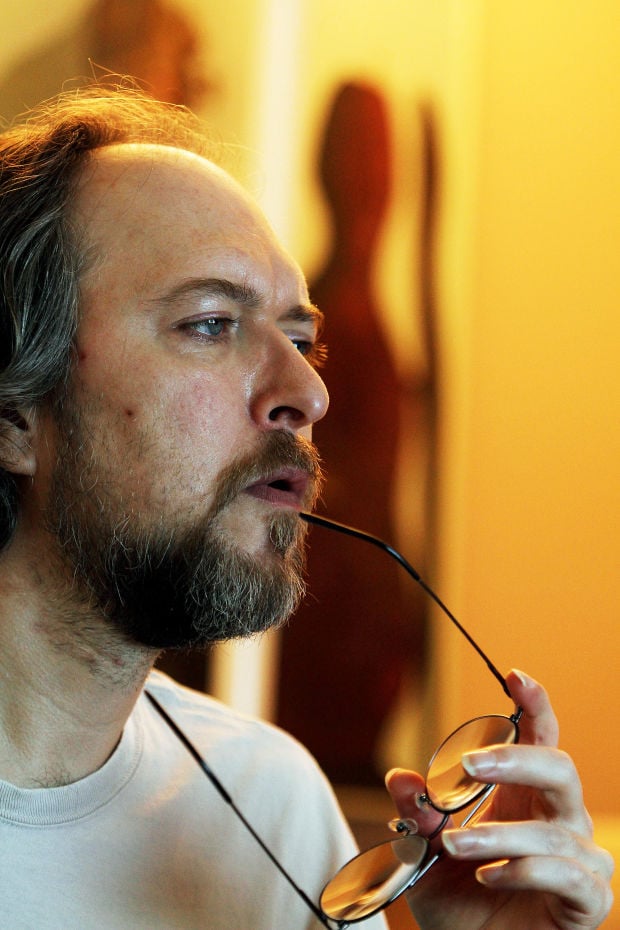 (QUAD CITY TIMES)   An Iowa cancer patient awaiting trial on marijuana charges whispered a question to his attorney during a Friday status hearing in Scott County District Court.
"What if I die before the trial?" Benton Mackenzie asked.
The 47-year-old is one of six defendants whose charges stem from a Scott County Sheriff's search last summer that seized 71 marijuana plants.
Mackenzie, who shared his story with the Quad-City Times in September, says he grew the marijuana for cannabis oil to treat his terminal cancer. He said that since deputies confiscated his plants, his health has worsened to the point his family has put him on hospice watch.
He doesn't think he'll live long enough to make it to trial, which on Friday was set for June 2, almost a year after the search.
Initially, the trial was set for last October. Then it was postponed to December, then March, and now June 2.
"At this time schedule, they're trying to kill me," Mackenzie said after Friday's hearing.
During the hearing, Scott County District Judge Henry Latham attributed the delays to the defense as Latham and lawyers laid out a calendar of future court dates.
Scott County Attorney Mike Walton said he isn't dropping the case.
"I haven't been given any legal reason why charges should be dismissed," Walton said.
In answer to Mackenzie's question about what happens to the case if he dies, Walton said the case against the other defendants would go on.
Iowa law doesn't allow medical marijuana. Mackenzie had an opinion about the bill that failed in the Iowa Legislature earlier this week.
"There are still chariot wheels at the bottom of the Red Sea," he said.
(John Vibes)   Eileen DiNino, a 55 year old mother of 7 was sent to prison because she couldn't afford to pay for her children's truancy fines.  Tragically, after serving half of her two day prison sentence, she was found dead in her cell.
District Judge Dean R. Patton of Reading, Pennsylvania sentenced Ms. DiNino to two days in prison to erase roughly $2,000 in fines.
Patton sent the woman away to prison against his better judgement, but as with most government jobs, Patton is required to ignore his own conscience to abide by federal and state laws.
Her cause of death has yet to be determined, but police say that it is "not suspicious."
(FEDERALJACK)   Michael Edwards received a life sentence in 1994 after his third drug offense. That's more time than some murders, rapists and violent criminals get.
LEARN MORE ABOUT MICHAEL, AND HOW YOU CAN HELP HERE
(SACREDOWLS) Just finished watching Captain America 2: The Winter Soldier & was pleasantly surprised! Sacred Owls loves us some Marvel but this one went the extra mile! Sometimes life is stranger than fiction. Warning: Spoilers!
Just as I was thinking it, Black Widow said it!
Captain: "Arnim Zola was a German scientist that worked for the Red Skull. He's been dead for years"
Arnim: "First correction: I am Swiss. 2nd: Look around you. I have never been more alive. In 1972 I received a terminal diagnosis. Science could not save my body. My mind, however… That was worth saving. On 200,000 feet of data banks. You are standing in my brain."
Captain: "How did you get here?"
Arnim: "Invited."
Black Widow: "It was Operation Paperclip after World War II S.H.I.E.L.D. recruited German scientists with strategic value."
Arnim: "You thought I could help their cause. I also helped my own."
Captain: "Hydra died with the Red Skull"
Arnim: "Cut off one head, two more shall take it's place."
Captain: "Prove it."
Arnim: "Access archive… Hydra was founded on the belief that humanity could not be trusted with it's own freedom. What we did not realize is that if you try to take that freedom they resist. The war tough us much. Humanity needed to surrender their freedom willingly. After the war S.H.I.E.L.D. was founded. And I was was recruited. The new Hydra grew. A beautiful parasite inside S.H.I.E.L.D. For 70 years Hydra has been secretly feeding crisis, reaping war and when history did not cooperate, history was changed."
Black Widow: "That's impossible S.H.I.E.L.D. would have stopped you."
Arnim: "Accidents will happen. Hydra created a world so chaotic that humanity is finally ready to sacrifice it's freedom to gain it's security once the purification process is complete Hydra's New World Order will arise. We won Captain. Your death amounts to the same as your life. A zero sum."
S.H.I.E.L.D. is an espionage and law-enforcement agency in the Marvel Comics Universe. The acronym originally stood for Supreme Headquarters, International Espionage, Law-Enforcement Division. It was changed in 1991 to Strategic Hazard Intervention Espionage Logistics Directorate. – Wikipedia
So this whole story line is pretty much the same true history of humanity since WWII. Except S.H.I.E.L.D. was the C.I.A. However, the United States Central Intelligence Agency was not founded by "good guys" but rather Yale University / Skull & Bones alumni who practiced black arts, occult rite & rituals who's plans were world domination through war, famine, and poison. People like Prescott Bush, Henry Kissinger, and so on. Instead of an Orwellian 1984 scenario with boot to the neck oppression in order to achieve a New World Order the men behind the curtain are going more Aldous Huxley's Brave New World where we beg for the control because it is convenient and comfortable.
Operation Paperclip is the actual name of Nazi infiltration of the United States government. It's pretty amazing that Marvel had the balls to not only drop that name with it's actual definition (which American Horror Story: Coven also did recently) but then to tie it to the phrase New World Order within minutes of the film.
Zola's Algorithm (Project Insight) = NSA PRISM
Another key plot line that correlates with reality is Zola's Algorithm. It's concept of using data mining in order to keep tabs on citizen's and even predict what they are going to do in the future to assess who is a threat to national security is exactly what the N.S.A. (National Security Agency) PRISM program is.
PRISM is a clandestine mass electronic surveillance data mining program launched in 2007 by the National Security Agency (NSA), with participation from an unknown date by the British equivalent agency, GCHQ. PRISM is a government code name for a data-collection effort known officially by the SIGAD US-984XN. The Prism program collects stored Internet communications based on demands made to Internet companies such as Google Inc. under Section 702 of the FISA Amendments Act of 2008 to turn over any data that match court-approved search terms. The NSA can use these Prism requests to target communications that were encrypted when they traveled across the Internet backbone, to focus on stored data that telecommunication filtering systems discarded earlier, and to get data that is easier to handle, among other things. – Wikipedia
Captain: "Tell me about Zola's algorithm."
Agent: "Never heard of it."
Captain: "What were you doing on the Lumurian Star*?"
Agent: "Throwing up. I get sea sick… (after being kicked off the roof and thrown back on by Falcon) Zola's algorithm is a program for choosing its targets"
Captain: "What targets?"
Agent: "You, The T.V. anchor in Karo, The other secretay of Defensa, high school valedictorian Iowa City, Bruce Banner, Steven Strange, anyone who is a threat to Hydra now or in the future"
Captain: "In the future? How could it know?"
Agent: "(laughing) How could it not? The 21st century is a digital book. Zola tough Hydra how to read it. Your bank records, medical histories, voting patterns, emails, phone calls, your damn S.A.T. scores. Zola's algorithm evaluates people's past to predict their future."
Captain: "What then?"
Agent: "…oh my god Pierce is going to kill me…"
Captain: "WHAT THEN?!"
Agent: "Then the  inside helicarriers scratch people off the list… a few million at a time."
There you have it folks! Using predictive programming to kill a huge chunk of the worlds population (as per National Security Study Memorandum 200 by Henry Kissinger in 1979) in order to depopulate the world for national security.
*Fun fact. Lumurian Star is a reference to the hypothetical lost continent connecting the Indian and Pacific oceans which has been referenced a bit in popular culture but has been rendered obsolete by modern understanding of plate tectonics.
Another note of Anti-New World Order symbolism is towards the end when Nick Fury needs to use a retinal scanner in order to enter a door but his security clearance has been revoked. He raises his eye patch to reveal his damaged eye and says "It you want to stay ahead of me Mr. Secretary… you need to keep both eyes open."
Wanna be illuminated ones like to cover one eye in order to show allegiance to the New World Order as shown to the right.
Samuel L. Jackson's character Nick Fury however does the opposite. He has an eye patch because of something done to him. It is unsightly and damaged which is why it is covered. In order to gain access to the information to destroy the tyrant. He lifts it as a sign of disobedience.
Winter Soldier = MK Ultra Monarch Program Victim
The Winter Soldier himself is something right out of the C.I.A.'s Monarch Program under MKUltra. He is a brainwashed mind control victim who has psychological triggers that make him operate.
When he does not operate as his controllers want, they give him shock treatment and reprogram him.
Some other fun little conspiracy references were found in the film like when a senator is talking to what seems like one of his agents about setting up an appointment to sleep with a wanna be reporter but stops himself because "This isn't the place to talk about it" and notices his lapel pin. The agent slowly looks up and him and knowingly says "Thank you." with a creepy smile. Then the senator say's "Come here." and reaches in for a hug at which point he whispers in his ear "hail Hydra" and walks off.
This sort of awkward greeting is common among the initiated in secret societies. This scene is actually really similar to the way George W. Bush greeted Jeff Gannon (gay porn star, White House prostitute "midnight call boy" and who some believe to be Johnny Gosch the missing child presumed dead or a victim of The Franklin Cover Up ritual sex & murder circle). This type of shit really makes my skin crawl… creeps.
All and all, great film! The good guy is an old fashioned, modest, moral man who believes in the constitution, transparency in government, and freedom from tyrants (which are one in the same).
To quote the Captain:
"Attention all S.H.I.E.L.D. agents. This is Steve Rogers. You've heard a lot about me in the past few days. Some of you were even ordered to hunt me down. But I think it's time you know the truth. S.H.I.E.L.D. is not what we though it was. It's been taken over by Hydra. Alexander Pierce is their leader. The strike and insight crew work for Hydra as well. I don't know how many more but I know they are in the building. They could be standing right next to you. They almost have what they want. Absolute control. They shot Nick Fury and it won't end there. If you launch those helicarriers today Hydra will be able to kill anyone that stands in their way unless we stop them. I know I am asking a lot but the price of freedom is high… it always has been, and it's a price I am willing to pay. And if I am the only one, so be it. But I am willing to be that I am not."
Infowars.com has also done a pretty good review of the film.
(FEDERALJACK)   FB suspended my other account (Popeye FederalJack). Just gone, for no reason, (I think someone who I schooled in a comment thread reported it as fake) and now it wants an ID or it won't even help me with my account. So now a major way I interact with hosts, researchers, listeners, and guests is gone. It's too easy for trolls, or the brain dead to report things they don't like and have it removed from Facebook. I am working on getting it back but who knows when, and if that will happen. For now add the account below. Also, if you are an admin on any of the pages I was, and you added me in the past, please re-add me.
BACKUP FACEBOOK ACCOUNT: https://www.facebook.com/popeye.dtrh