(Stephanie Sledge)   Over the past few decades, America has seen a steady increase of police departments across the nation subscribe and incorporate 'Elite' crime fighting teams called Special Weapons and Tactics (SWAT). These elite teams are highly trained in the militarized special operations and urban warfare tactics. These SWAT teams were once viewed by the public as a good way to fight the drug war. Over the past few years the public view has flipped and now Citizens are beginning to question whether these elite SWAT teams are a deeper sign of a hostile takeover of America from within.
(COUNTER CURRENT NEWS)   A report by Jeremy Scahill in The Nation revealed that the largest mercenary army in the world, Blackwater (later called Xe Services and more recently "Academi") clandestine intelligence services was sold to the multinational Monsanto. Blackwater was renamed in 2009 after becoming famous in the world with numerous reports of abuses in Iraq, including massacres of civilians. It remains the largest private contractor of the U.S. Department of State "security services," that practices state terrorism by giving the government the opportunity to deny it.
Many military and former CIA officers work for Blackwater or related companies created to divert attention from their bad reputation and make more profit selling their nefarious services-ranging from information and intelligence to infiltration, political lobbying and paramilitary training – for other governments, banks and multinational corporations. According to Scahill, business with multinationals, like Monsanto, Chevron, and financial giants such as Barclays and Deutsche Bank, are channeled through two companies owned by Erik Prince, owner of Blackwater: Total Intelligence Solutions and Terrorism Research Center. These officers and directors share Blackwater.
One of them, Cofer Black, known for his brutality as one of the directors of the CIA, was the one who made contact with Monsanto in 2008 as director of Total Intelligence, entering into the contract with the company to spy on and infiltrate organizations of animal rights activists, anti-GM and other dirty activities of the biotech giant.
Contacted by Scahill, the Monsanto executive Kevin Wilson declined to comment, but later confirmed to The Nation that they had hired Total Intelligence in 2008 and 2009, according to Monsanto only to keep track of "public disclosure" of its opponents. He also said that Total Intelligence was a "totally separate entity from Blackwater."
However, Scahill has copies of emails from Cofer Black after the meeting with Wilson for Monsanto, where he explains to other former CIA agents, using their Blackwater e-mails, that the discussion with Wilson was that Total Intelligence had become "Monsanto's intelligence arm," spying on activists and other actions, including "our people to legally integrate these groups." Total Intelligence Monsanto paid $ 127,000 in 2008 and $ 105,000 in 2009.
No wonder that a company engaged in the "science of death" as Monsanto, which has been dedicated from the outset to produce toxic poisons spilling from Agent Orange to PCBs (polychlorinated biphenyls), pesticides, hormones and genetically modified seeds, is associated with another company of thugs.
(REASON TV)   You may already know Juggalos, the fans of Detroit horrorcore rap group Insane Clown Posse (ICP), from Buzzfeed lists, television shows like Workaholics, or music videos like "Juggalo Island." But, you may not know that Juggalos are one of the best examples of a self reliant (but demonized) community.
Juggalos began to garner a lot of mainstream attention in 2011 when they were classified as a "hybrid gang" by the Federal Bureau of Investigation (FBI) in their National Gang Threat Assessment report. The report says Juggalos could "exhibit gang-like behavior and engage in criminal activity and violence."
Juggalos at the 2013 Gathering of the Juggalos, a music festival held in Cave-in-Rock, Illinois, told Reason TV that they disputed the claims made by the FBI.
"That's stereotyping pretty much," said one Juggalo. "You know people who don't listen to the music or are not a fan or a family are going to think we are violent people when they see hatchet men [emblem of Juggalos] or Juggalo stuff."
Insane Clown Posse's members, Shaggy 2 Dope and Violent J, agree and are suing the FBI along with the American Civil Liberties Union of Michigan, claiming that profiling Juggalos as a gang violates Juggalos' constitutional right to express themselves. Further, the gang classification could subject Juggalos to routine stops, detainment, and interrogation by local and federal law enforcement based solely on their music preferences.
"I think it's ridiculous to consider the Juggalos a gang," says journalist Camille Dodero, who has written about Juggalos and Insane Clown Posse for Gawker and the Village Voice. "In some ways it's almost ironic. These are a group of people that no one else in America has ever cared about and then this one band gave them a sense of identity–like it was a support group."
Dodero says Juggalos often come from lower class backgrounds and although some of them commit crimes, not all of them do.
"And that's not to say that there are that many kids doing it. It just so happened that somebody caught onto the fact that those kids who have that hatchet man sometimes steal things," says Dodero. "That is part of who ICP has been reaching though, people with really bad upbringings."
ICP, who grew up in lower class households just like their fans, have targeted victims as their audience. These include kids who were homeless, came from an abusive family, or were molested. The result is a world where these young people have escaped the life they were dealt for a supportive community they've helped create. One they lovingly refer to as "family."
The FBI said it could not comment on pending litigation, but the effects of the gang label may have already impacted the next Gathering of the Juggalos. The 2014 music festival had to change locations multiple times thanks in part to the fears of local residents, fears Insane Clown Posse has said are associated with the gang classification.
(FEDERALJACK)   A man says that after he drove himself to a hospital for a surgery, social workers detained him against his will and he was then put into a psychiatric ward, and ultimately a nursing home. In a wild exhibition of state power, the man has been a prisoner without due process and no way to free himself. On February 21st, Charlie Fink, of Arlington, Texas, drove himself to Methodist Richardson Medical Center for a scheduled hernia surgery. Fink, 85, was scheduled to leave three days later. But to his dismay, he was locked in a room against his will and told he may not leave.
(MOTOR CITY MUCKRAKER)   Steve and Maria Green watched in terror last year when Child Protective Services removed  8-month-old Baby Bree from their Lansing home.
Today, as Baby Bree turns 1, Maria Green is now fighting for the right to see her 7-year-old son.
The reason: They use state-approved medical marijuana.
Maria Green's ex-husband is trying to deny Maria parental rights to her 7-year-son by saying that she and her husband are "ringleaders of a small separatist group within the Michigan Medical Marijuana Community" because they are involved in a pot advocacy group, The Human Solution, which does not promote anything illegal.
UPDATE: WOLFGANG HAS BEEN VISITED TWICE BY THE LOCAL SHERIFF'S DEPT SINCE THIS INTERVIEW WENT OUT, EVEN IN THE MIDDLE OF ANOTHER INTERVIEW. CLICK HERE TO HEAR THE UDATE.
(FEDERALJACK)   Wolfgang W. Halbig doesn't believe anyone was killed at Sandy Hook Elementary School on December 14, 2012, and he's looking for some answers. So many answers, in fact, that he was paid a visit by some police investigators telling him to back off.
Mr. Halbig isn't your average "conspiracy theorist." He's worked in public education as a teacher, dean, assistant principal, principal of an alternative school and as the Director for School Safety and Security for the Seminole County Public Schools, a school district of approximately 65,000 students.
A former Florida State Trooper and United States Customs Inspector, Mr. Halbig was invited by the U.S. Department of Justice to train over 3,500 school police officers, school superintendents and school principals. He travels the country providing presentations and keynotes to a variety of school board associations and conferences and is a nationally-recognized school safety and security expert and consultant, who has provided safety training and school assessments for more than 4,000 school districts nationwide.
Dave Gahary spoke with Wolfgang about why he doesn't believe the official story of the Sandy Hook Elementary School event, in this interesting interview.
SEE ALSO:
Cops Harass School Safety Expert Wolfgang Halbig During Radio Interview Questioning The Sandy Hook Massacre
Debunking The MSM Attack on Professor James Tracy
Prof. James Tracy: Sandy Hook, Boston, Logical Fallacies & More
The Sandy Hook Shooting – Fully Exposed
How the Newtown massacre became a Mind-Control television event
Reaction to FAU professor's Newtown conspiracy is misguided and misinformed
CT. COP on Sandy Hook Inconsistencies: "THINGS DON'T ADD UP"
(CNS NEWS)   "Local officials who abuse zoning authority powers to cower citizens into submission and deprive land owners of Constitutional rights in the enjoyment of their land must be subject to fines and actual damages they cause including attorney fees," Delegate Bob Marshall noted in support of his HB 1219 recently introduced in the Virginia General Assembly.
Marshall introduced his bill in direct response to incidents precipitated by county officials who threatened Virginia citizen farmer Martha Boneta. Boneta gained national attention after she was cited and threatened with $5,000 per-day fines for hosting such 'menacing activities' as a birthday party for eight 10-year old girls without a permit and advertising pumpkin carvings. Virginians rallied at two "pitchfork protests" in support of Boneta.
Marshall said, "I am convinced this harassment will continue until local officials realize they can be held liable in the form of fines and other costs." H.B. 1219 provides that local governments violating constitutional rights through zoning shall pay their victims (1) the amount of the fines they sought to impose, and (2) actual damages including attorney fees.  Local government officials who intentionally violate this law would also be liable.
Martha Boneta said, "I am confident that I would not have been bullied by my county government had this bill been in place earlier, and I ask all Virginians to contact their delegates and senators to support H.B. 1219, which protects all of us."
(FEDERALJACK)   U.S. Supreme Court Justice Antonin Scalia told law students at the University of Hawaii on Monday that the nation's highest court was wrong to uphold the internment of Japanese-Americans during World War II, but he wouldn't be surprised if the court issued a similar ruling during a future conflict.
Scalia was responding to a question about the court's 1944 decision in Korematsu v. United States, which upheld the convictions of Gordon Hirabayashi and Fred Korematsu for violating an order to report to an internment camp.
"Well of course Korematsu was wrong. And I think we have repudiated in a later case. But you are kidding yourself if you think the same thing will not happen again," Scalia told students and faculty during a lunchtime Q-and-A session.
Scalia cited a Latin expression meaning, "In times of war, the laws fall silent."
"That's what was going on — the panic about the war and the invasion of the Pacific and whatnot. That's what happens. It was wrong, but I would not be surprised to see it happen again, in time of war. It's no justification, but it is the reality," he said.
Avi Soifer, the law school's dean, said he believed Scalia was suggesting people always have to be vigilant and that the law alone can't be trusted to provide protection.
Soifer said it's good to hear Scalia say the Korematsu ruling was wrong, noting the justice has been among those who have reined in the power of military commissions regardless of the administration.
"We do need a court that sometimes will say there are individual or group rights that are not being adequately protected by the democratic process," Soifer said.
Scalia was appointed to the nation's highest court in 1986, making him the longest-serving justice currently on the court.
The 77-year-old spoke after teaching a class. He didn't take questions from media.
LEARN MORE ABOUT FEMA CAMPS, AND THE HISTORY OF THEIR USAGE BY WATCHING BOTH FILMS BELOW:
CAMP FEMA
CAMP FEMA 2
(FEDERALJACK)   Anti-drone activists are finding themselves in courts across the US, for protesting against the use of the deadly unmanned aircraft. Several groups are on trial separately, with one being prosecuted for blockading a drone air base. Yet there's still relative media silence about what the drones do to civilian populations, leaving the public in the dark.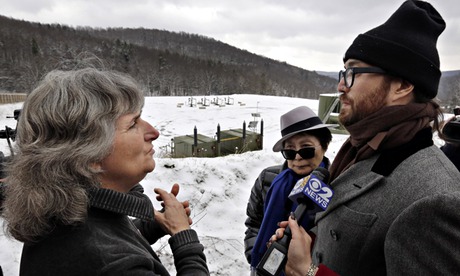 (THE GUARDIAN)   Vera Scroggins, an outspoken opponent of fracking, is legally barred from the new county hospital. Also off-limits, unless Scroggins wants to risk fines and arrest, are the Chinese restaurant where she takes her grandchildren, the supermarkets and drug stores where she shops, the animal shelter where she adopted her Yorkshire terrier, bowling alley, recycling center, golf club, and lake shore.
In total, 312.5 sq miles are no-go areas for Scroggins under a sweeping court order granted by a local judge that bars her from any properties owned or leased by one of the biggest drillers in the Pennsylvania natural gas rush, Cabot Oil & Gas Corporation.
"They might as well have put an ankle bracelet on me with a GPS on it and be able to track me wherever I go," Scroggins said. "I feel like I am some kind of a prisoner, that my rights have been curtailed, have been restricted."
READ THE FULL ARTICLE WITH VIDEO HERE