(ABC NEWS) Students going back to school in Dubuque, Iowa, are going to find it a little harder to slack off in gym.
Public middle and high school students will have to wear heart rate monitors in gym class to make sure they are actually being physically active.
"It will be a large portion of their grade, because we want to grade them on what they're actually doing in our class," Dubuque Schools Athletic and Wellness Director Amy Hawkins toldABC News.
Teachers will use the information collected from the heart rate monitors to write report cards.
"It really takes the opinion out of things," Hawkins said. "You know it's not really 'I think your kid is doing this and this in class.'"
(FEDERALJACK) A reporter for the Huffington Post recounts his experience being arrested while covering the recent protests over a shooting in Ferguson, Missouri.
(REASON TV)   In October of 2012, Timothy Young was pulled over for failing to use his turn signal in Lordsburg, New Mexico. When Hidalgo County deputies saw that Young's companion had an open container, they asked to search the truck. Young consented.

The search dragged on for more than two hours. Deputies eventually called in a K9 unit and claimed that the dog, Leo, alerted on the driver's seat. While deputies sought a warrant for a more extensive search, deputy Patrick Green continued to interrogate Young, at one point asking him, "Do you have it up your ass?"

After the deputies obtained a search warrant, they handcuffed Young and drove him an hour away to the Gila Regional Medical Center in Silver City, New Mexico. Young was x-rayed and digitally probed without his consent. No contraband was found. A few weeks later, the hospital sent Young a bill for services rendered.

Young sued all parties involved. So far he has received a judgment of $925,000 from Hidalgo County.
(FEDERALJACK)   The Obama administration has expanded the national terrorist watchlist system by approving broad guidelines over who can be targeted. A leaked copy of the secret government guidebook reveals that to be a deemed a "terrorist" target, "irrefutable evidence or concrete facts are not necessary." Both "known" and "suspected" suspects are tracked, and terrorism is so broadly defined that it includes people accused of damaging property belonging to the government or financial institutions. Other factors that can justify inclusion on the watchlist include postings on social media or having a relative already deemed a terrorist. Democracy Now interviews investigative reporters Jeremy Scahill and Ryan Devereaux of The Intercept. Last week they published the secret U.S. document along with their new article, "The Secret Government Rulebook For Labeling You a Terrorist."
(WASHINGTON TIMES)   The Environmental Protection Agency has quietly floated a rule claiming authority to bypass the courts and unilaterally garnish paychecks of those accused of violating its rules, a power currently used by agencies such as the Internal Revenue Service.
The EPA has been flexing its regulatory muscle under President Obama, collecting more fines each year and hitting individuals with costly penalties for violating environmental rules, including recently slapping a $75,000 fine on Wyoming homeowner Andy Johnson for building a pond on his rural property.
"The EPA has a history of overreaching its authority. It seems like once again the EPA is trying to take power it doesn't have away from American citizens," Sen. John Barrasso, Wyoming Republican, said when he learned of the EPA's wage garnishment scheme.
Others questioned why the EPA decided to strengthen its collection muscle at this time.
Critics said the threat of garnishing wages would be a powerful incentive for people to agree to expensive settlements rather than fight EPA charges.
EPA officials did not respond to repeated questions by The Washington Times about why they thought it was necessary to garnish people's wages.
The EPA announced the plan last week in a notice in the Federal Register, saying federal law allows it "to garnish non-Federal wages to collect delinquent non-tax debts owed the United States without first obtaining a court order."
The agency cited authority under the Debt Collection Improvement Act of 1996 that centralized federal collection operations under the Treasury Department, which oversees garnishments of wages or tax refund checks.
Under the law, every federal agency has the authority to conduct administrative wage garnishment, provided the agency adopts approved rules for conducting hearings where debtors can challenge the amount of debt or terms of repayment schedule, a Treasury official said.
Still, the rule would give the EPA sweeping authority to dictate how and whether Americans could dispute fines and penalties, even as the amount of EPA fines collected from individuals, businesses and local governments steadily increase.
The amount of fines raked in by the agency has jumped from $96 million in 2009 to $252 million in 2012, a more than 160 percent increase, according to EPA annual reports.
Putting the collection powers on a fast track, the agency announced it in the Federal Register as a "direct final rule" that would take effect automatically Sept. 2, unless the EPA receives adverse public comments by Aug. 1.
The EPA said it deemed the action as not a "significant regulatory action" and therefore not subject to review.
The negative reactions began almost immediately.
In a comment letter submitted to the EPA, the conservative Heritage Foundation faulted the rule for giving the government "unbridled discretion" in controlling the process for challenging fines and wage garnishment, such as dictating the site of a hearing without consideration of the time and travel expense placed on the accused debtor.
The rule allows the EPA to decide whether a debtor gets a chance to present a defense and then picks whomever it chooses to serve as a hearing officer, even someone not trained as an administrative law judge, wrote David S. Addington, group vice president for research at The Heritage Foundation.
It also puts the burden of proof on the debtor, not the EPA, he said.
The EPA has been on the front lines of the battle over Mr. Obama's climate change agenda, including issuing proposed rules that would require coal-fired power plants to cut carbon dioxide emissions by 30 percent over 15 years.
Critics say it will cause massive increases in the cost of electricity, lead to power shortages and eliminate jobs, while making scant impact on the amount of greenhouse gasses emitted worldwide.
The agency has been a magnet for criticism over new rules on things such as wood-burning stoves and small streams or ponds on private land, including waterways on farms and golf courses.
(FEDERALJACK)   Reportedly in connection with intelligence indicating al-Qaeda has developed new harder to detect bombs, the Transportation Security Agency will now require passengers coming from certain overseas airports to power up cellphones and other electronic devices in front of security agents. The failure of a device to boot can potentially indicate the presence of a bomb and may result in confiscation, according to the TSA. Seizure of personal items has been a growing issue, and recently made its way back into the headlines when the agency impounded a part of the bass belonging to Grammy winner Christian McBride.
(FEDERALJACK)   Agriculture industry trade groups are defending themselves in courts across the country from journalists and activists who believe their First Amendment rights are being violated. Animal rights activists, environmentalists and journalists who make secret video recordings to expose cases of animal cruelty on farms face the possibility of criminal prosecution due to restrictive laws passed with the support of big agriculture.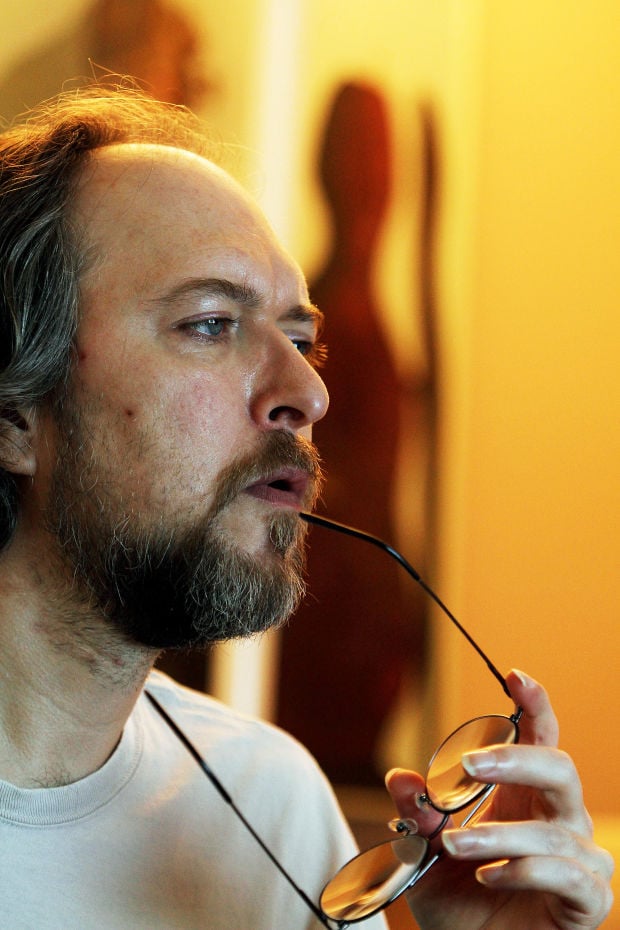 (QUAD CITY TIMES)   An Iowa cancer patient awaiting trial on marijuana charges whispered a question to his attorney during a Friday status hearing in Scott County District Court.
"What if I die before the trial?" Benton Mackenzie asked.
The 47-year-old is one of six defendants whose charges stem from a Scott County Sheriff's search last summer that seized 71 marijuana plants.
Mackenzie, who shared his story with the Quad-City Times in September, says he grew the marijuana for cannabis oil to treat his terminal cancer. He said that since deputies confiscated his plants, his health has worsened to the point his family has put him on hospice watch.
He doesn't think he'll live long enough to make it to trial, which on Friday was set for June 2, almost a year after the search.
Initially, the trial was set for last October. Then it was postponed to December, then March, and now June 2.
"At this time schedule, they're trying to kill me," Mackenzie said after Friday's hearing.
During the hearing, Scott County District Judge Henry Latham attributed the delays to the defense as Latham and lawyers laid out a calendar of future court dates.
Scott County Attorney Mike Walton said he isn't dropping the case.
"I haven't been given any legal reason why charges should be dismissed," Walton said.
In answer to Mackenzie's question about what happens to the case if he dies, Walton said the case against the other defendants would go on.
Iowa law doesn't allow medical marijuana. Mackenzie had an opinion about the bill that failed in the Iowa Legislature earlier this week.
"There are still chariot wheels at the bottom of the Red Sea," he said.
(John Vibes)   Eileen DiNino, a 55 year old mother of 7 was sent to prison because she couldn't afford to pay for her children's truancy fines.  Tragically, after serving half of her two day prison sentence, she was found dead in her cell.
District Judge Dean R. Patton of Reading, Pennsylvania sentenced Ms. DiNino to two days in prison to erase roughly $2,000 in fines.
Patton sent the woman away to prison against his better judgement, but as with most government jobs, Patton is required to ignore his own conscience to abide by federal and state laws.
Her cause of death has yet to be determined, but police say that it is "not suspicious."
(SACREDOWLS) Just finished watching Captain America 2: The Winter Soldier & was pleasantly surprised! Sacred Owls loves us some Marvel but this one went the extra mile! Sometimes life is stranger than fiction. Warning: Spoilers!
Just as I was thinking it, Black Widow said it!
Captain: "Arnim Zola was a German scientist that worked for the Red Skull. He's been dead for years"
Arnim: "First correction: I am Swiss. 2nd: Look around you. I have never been more alive. In 1972 I received a terminal diagnosis. Science could not save my body. My mind, however… That was worth saving. On 200,000 feet of data banks. You are standing in my brain."
Captain: "How did you get here?"
Arnim: "Invited."
Black Widow: "It was Operation Paperclip after World War II S.H.I.E.L.D. recruited German scientists with strategic value."
Arnim: "You thought I could help their cause. I also helped my own."
Captain: "Hydra died with the Red Skull"
Arnim: "Cut off one head, two more shall take it's place."
Captain: "Prove it."
Arnim: "Access archive… Hydra was founded on the belief that humanity could not be trusted with it's own freedom. What we did not realize is that if you try to take that freedom they resist. The war tough us much. Humanity needed to surrender their freedom willingly. After the war S.H.I.E.L.D. was founded. And I was was recruited. The new Hydra grew. A beautiful parasite inside S.H.I.E.L.D. For 70 years Hydra has been secretly feeding crisis, reaping war and when history did not cooperate, history was changed."
Black Widow: "That's impossible S.H.I.E.L.D. would have stopped you."
Arnim: "Accidents will happen. Hydra created a world so chaotic that humanity is finally ready to sacrifice it's freedom to gain it's security once the purification process is complete Hydra's New World Order will arise. We won Captain. Your death amounts to the same as your life. A zero sum."
S.H.I.E.L.D. is an espionage and law-enforcement agency in the Marvel Comics Universe. The acronym originally stood for Supreme Headquarters, International Espionage, Law-Enforcement Division. It was changed in 1991 to Strategic Hazard Intervention Espionage Logistics Directorate. – Wikipedia
So this whole story line is pretty much the same true history of humanity since WWII. Except S.H.I.E.L.D. was the C.I.A. However, the United States Central Intelligence Agency was not founded by "good guys" but rather Yale University / Skull & Bones alumni who practiced black arts, occult rite & rituals who's plans were world domination through war, famine, and poison. People like Prescott Bush, Henry Kissinger, and so on. Instead of an Orwellian 1984 scenario with boot to the neck oppression in order to achieve a New World Order the men behind the curtain are going more Aldous Huxley's Brave New World where we beg for the control because it is convenient and comfortable.
Operation Paperclip is the actual name of Nazi infiltration of the United States government. It's pretty amazing that Marvel had the balls to not only drop that name with it's actual definition (which American Horror Story: Coven also did recently) but then to tie it to the phrase New World Order within minutes of the film.
Zola's Algorithm (Project Insight) = NSA PRISM
Another key plot line that correlates with reality is Zola's Algorithm. It's concept of using data mining in order to keep tabs on citizen's and even predict what they are going to do in the future to assess who is a threat to national security is exactly what the N.S.A. (National Security Agency) PRISM program is.
PRISM is a clandestine mass electronic surveillance data mining program launched in 2007 by the National Security Agency (NSA), with participation from an unknown date by the British equivalent agency, GCHQ. PRISM is a government code name for a data-collection effort known officially by the SIGAD US-984XN. The Prism program collects stored Internet communications based on demands made to Internet companies such as Google Inc. under Section 702 of the FISA Amendments Act of 2008 to turn over any data that match court-approved search terms. The NSA can use these Prism requests to target communications that were encrypted when they traveled across the Internet backbone, to focus on stored data that telecommunication filtering systems discarded earlier, and to get data that is easier to handle, among other things. – Wikipedia
Captain: "Tell me about Zola's algorithm."
Agent: "Never heard of it."
Captain: "What were you doing on the Lumurian Star*?"
Agent: "Throwing up. I get sea sick… (after being kicked off the roof and thrown back on by Falcon) Zola's algorithm is a program for choosing its targets"
Captain: "What targets?"
Agent: "You, The T.V. anchor in Karo, The other secretay of Defensa, high school valedictorian Iowa City, Bruce Banner, Steven Strange, anyone who is a threat to Hydra now or in the future"
Captain: "In the future? How could it know?"
Agent: "(laughing) How could it not? The 21st century is a digital book. Zola tough Hydra how to read it. Your bank records, medical histories, voting patterns, emails, phone calls, your damn S.A.T. scores. Zola's algorithm evaluates people's past to predict their future."
Captain: "What then?"
Agent: "…oh my god Pierce is going to kill me…"
Captain: "WHAT THEN?!"
Agent: "Then the  inside helicarriers scratch people off the list… a few million at a time."
There you have it folks! Using predictive programming to kill a huge chunk of the worlds population (as per National Security Study Memorandum 200 by Henry Kissinger in 1979) in order to depopulate the world for national security.
*Fun fact. Lumurian Star is a reference to the hypothetical lost continent connecting the Indian and Pacific oceans which has been referenced a bit in popular culture but has been rendered obsolete by modern understanding of plate tectonics.
Another note of Anti-New World Order symbolism is towards the end when Nick Fury needs to use a retinal scanner in order to enter a door but his security clearance has been revoked. He raises his eye patch to reveal his damaged eye and says "It you want to stay ahead of me Mr. Secretary… you need to keep both eyes open."
Wanna be illuminated ones like to cover one eye in order to show allegiance to the New World Order as shown to the right.
Samuel L. Jackson's character Nick Fury however does the opposite. He has an eye patch because of something done to him. It is unsightly and damaged which is why it is covered. In order to gain access to the information to destroy the tyrant. He lifts it as a sign of disobedience.
Winter Soldier = MK Ultra Monarch Program Victim
The Winter Soldier himself is something right out of the C.I.A.'s Monarch Program under MKUltra. He is a brainwashed mind control victim who has psychological triggers that make him operate.
When he does not operate as his controllers want, they give him shock treatment and reprogram him.
Some other fun little conspiracy references were found in the film like when a senator is talking to what seems like one of his agents about setting up an appointment to sleep with a wanna be reporter but stops himself because "This isn't the place to talk about it" and notices his lapel pin. The agent slowly looks up and him and knowingly says "Thank you." with a creepy smile. Then the senator say's "Come here." and reaches in for a hug at which point he whispers in his ear "hail Hydra" and walks off.
This sort of awkward greeting is common among the initiated in secret societies. This scene is actually really similar to the way George W. Bush greeted Jeff Gannon (gay porn star, White House prostitute "midnight call boy" and who some believe to be Johnny Gosch the missing child presumed dead or a victim of The Franklin Cover Up ritual sex & murder circle). This type of shit really makes my skin crawl… creeps.
All and all, great film! The good guy is an old fashioned, modest, moral man who believes in the constitution, transparency in government, and freedom from tyrants (which are one in the same).
To quote the Captain:
"Attention all S.H.I.E.L.D. agents. This is Steve Rogers. You've heard a lot about me in the past few days. Some of you were even ordered to hunt me down. But I think it's time you know the truth. S.H.I.E.L.D. is not what we though it was. It's been taken over by Hydra. Alexander Pierce is their leader. The strike and insight crew work for Hydra as well. I don't know how many more but I know they are in the building. They could be standing right next to you. They almost have what they want. Absolute control. They shot Nick Fury and it won't end there. If you launch those helicarriers today Hydra will be able to kill anyone that stands in their way unless we stop them. I know I am asking a lot but the price of freedom is high… it always has been, and it's a price I am willing to pay. And if I am the only one, so be it. But I am willing to be that I am not."
Infowars.com has also done a pretty good review of the film.