Airline Pilot: Everybody Forced Through Naked Body Scanners in El Paso
(INFOWARS)   Infowars.com received an email today from a pilot for a major airline who claims all passengers are now forced through naked body scanners in El Paso, Texas. "'I'm a pilot for a major airline and overnighted in El Paso. Came to the airport the next day and everyone except for crew and airport employees were sent through the scanners. Stood there for a while and did not see anyone sent through the metal detectors," the pilot writes.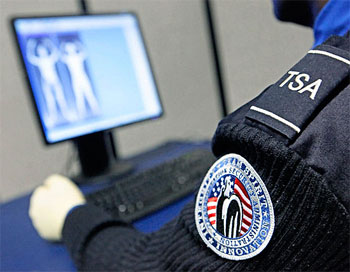 On July 20, the El Paso Times reported that security employees at the El Paso International Airport are using naked body scanners as the primary method of screening passengers. "The U.S. Transportation Security Administration has blocked entrances to metal detectors. Officials now instruct all travelers to get in line at one of the three imaging detection scanners," writes Adriana Gómez Licón. Signs at the airport deceptively indicate the scanning technique is optional.
"TSA officials declined to give a reason why body scanners are being used but metal detectors are not. They unveiled the body scanners in June. Until recently, passengers were randomly chosen for the scanners."
Companies such as Southwest Airlines have warned passengers about new procedures and advised them to be at airports two hours before their flight's scheduled departure time, according to the El Paso Times.
In February, the Inter-Agency Committee on Radiation Safety, which includes the European Commission, International Atomic Energy Agency, Nuclear Energy Agency and the World Health Organization, said that the government must inform air passengers about any health risks posed by naked body scanners. In response, the TSA claims the imaging technology is completely safe. "Recognized standards bodies have known standards on health and safety for this type of equipment," the agency said in a statement. "TSA complies with those national health and safety standards."
In June, Dr. David Brenner, head of the center for radiological research at Columbia University in New York, criticized government studies claiming the scanners are not a health risk. Brenner said children and passengers with genetic mutations are most at risk because they are less able to repair X-ray damage to their cells. "The population risk has the potential to be significant," he said.
The majority of complaints about the machines, however, focus on the invasion of privacy. "Many frequent fliers complain they're time-consuming or invade their privacy. The world's airlines say they shouldn't be used for primary security screening. And questions are being raised about possible effects on passengers' health," USA Today reported earlier this month. "Opposition to new full-body imaging machines to screen passengers and the government's deployment of them at most major airports is growing," the newspaper adds.
For the government, opposition to naked body scanners is not an issue. El Paso appears to be a beta test for what is to come around the country — forcing all passengers to submit to government intrusion of not only privacy but also compromising the health of the American public under the rubric of a war on manufactured terrorism.
http://www.prisonplanet.com/airline-pilot-everybody-forced-through-naked-body-scanners-in-el-paso.html
2 Responses to Airline Pilot: Everybody Forced Through Naked Body Scanners in El Paso