9/11 Commission members act to finally wrap it up
WASHINGTON (CNN) — Key members of the original 9/11 Commission are banding together to rekindle the sense of urgency felt after the 2001 attacks and pressure the government to act on the commission's unfinished business.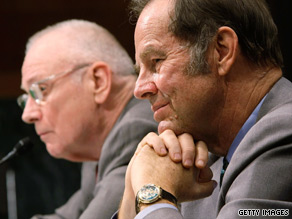 Former 9/11 Commission co-chairs Lee Hamilton, left, and Thomas Kean, in file photo, are leading new group.
The new group, headed by 9/11 Commission co-chairs Thomas Kean and Lee Hamilton, said Congress has adopted about 80 percent of the recommendations, made five years ago in the commission's landmark report, but has left troublesome security gaps.
"I'm worried that 20 percent [of the recommendations] haven't been addressed," Kean said. "I'm also worried that among the 80 percent, things aren't fully done."
Among what they described as unfinished business failings were:
• Failure to enforce national standards for state driver's licenses and other IDs, which the 9/11 Commission said are as important to terrorists as weapons.
• Lack of a system to determine if visitors to the United States leave the country.
• Lack of the ability of police, firefighters and others to communicate.
• No reform of a system that places oversight of the Department of Homeland Security in the hands of more than 80 congressional committees and subcommittes, sapping the department's time and energies.
"Some of our recommendations were just flatly turned down," Hamilton said, citing one designed to revamp congressional oversight. He called the current system "an absurdity."
Congress mandated the original 9/11 Commission, but the new bipartisan National Security Preparedness Group has no official status and is relying on the prestige of its members to give it clout.
Members include former Homeland Security Secretary Tom Ridge, former U.S. Attorneys General Edwin Meese III and Richard Thornburgh, and former Energy Secretary E. Spencer Abraham.
Homeland Security Secretary Janet Napolitano introduced the NSPG at an event at Homeland Security headquarters.
"I look forward to a very vigorous relationship with this group to provide advice, to provide thought and to help us as we continue to move forward," Napolitano said.
The Bipartisan Policy Center, a nonprofit organization formed in 2007 by former Senate Majority Leaders Howard Baker, Tom Daschle, Bob Dole and George Mitchell, brought the group together to address policy challenges.
The NSPG said it also will focus on the evolving threat of terrorism. Kean said that the threat of cyber attacks has increased since the 9/11 Commission issued its report.
http://www.cnn.com/2009/US/07/25/new.antiterror.group/index.html?iref=werecommend